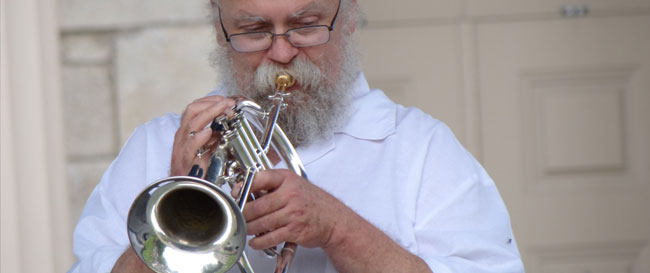 Just before they hit the Main Stage at the Iowa City Jazz Festival, we caught up with multi-instrumentalist and educator Kevin Hart and special guest performer David Hoffman to speak about their performance with Kevin Hart's Vibe Tribe, along with their influences and experiences with music.
Hart and Hoffman first met at a jam session, where they spoke the language of music long before they had exchanged even a single word. Their diverse musical performance at the 2011 Iowa City Jazz Festival was a clear crowd favorite, featuring both blisteringly fast solos and slow, soulful grooves on the vibes and trumpet/flugelhorn by Hart and Hoffman; both of whom are know to have an eclectic musical history.
Between them, they have played with and composed for the likes of Ray Charles, Dizzy Gillespie, and Clark Terry.
Alongside Kevin Hart and David Hoffman were pianist Adam Wilhelm, bassist Andy Crawford, and drummer Tom Marko.
Watch our video interview with Kevin Hart and David Hoffman below: