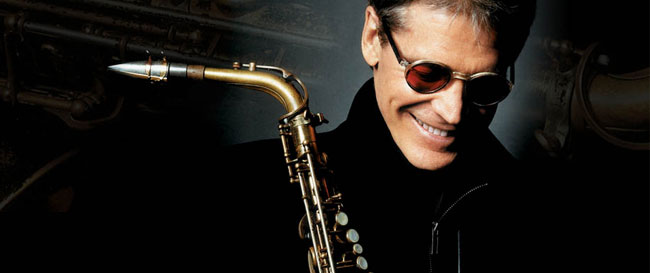 With one of the most recognizable sounds in modern Jazz and an illustrious career spanning over 50-years, it seems obvious why this was one of the most anticipated performances of Britain's largest Jazz Festival.
Regardless of your thoughts on smooth jazz, no one can deny that David Sanborn has chops. The talent was well and truly on show last night with Sanborn alongside Organist/Trumpeter/Vocalist Joey DeFrancesco and Drummer Byron Landham playing to a full house at the Queen Elizabeth Hall for the 2011 London Jazz Festival.
The trio gelled beautifully throughout the performance, creating layers of sound that intermingled perfectly atop a heavily Blues influenced set list they came up with on the fly. Kicking off with a funky rendition of 'Comin' Home Baby', the band flew seamlessly between songs and genres, as Sanborn's Alto appeared permanently entrenched in the upper register, creating the perfect counterpoint to the lofty bass of the B3 organ and flights of fancy through imaginative drum fills and solos – Exactly the level of musicianship you expect from a true Legend of Jazz.
This was no one-man show however – DeFrancesco kept the B3 Hammond Organ cranked up to 11 throughout the performance, adding a fiery intensity to the show that could only be subdued by the occasional playful interludes in his solos where he would reference everything from Jazz standards to "The Candy Man". His excellent organ pedal work also left much of the audience wondering where the Bass player was hiding, while the variety his vocals brought to the performance in 'Let The Good Times Roll' also proved a welcome variation on the largely instrumental set.
World-class drummer Landham held his own throughout the performance and found true acclaim during his solos, leaving the audience either completely speechless or howling for more after every one. Landham performed what I can only call the greatest drum solo I have ever heard during this performance, practicing some kind of wizardry that left his hands a blur while presumably occupying some new realm of sound that allows him to combine rhythms in a seemingly impossible manner.
A truly world-class performance by a trio of world-class musicians – Special mention must also go to opening act The Alex Wilson Trio (Alex Wilson (Piano); Davide Mantovani (Bass); Frank Tontoh (Drums), whose excellent afro-cuban rhythms set the energetic tone for the main act.

Check out our interview with David Sanborn after his performance at the 2011 London Jazz Festival: