We caught up with saxophonists Dave Koz and friends Mindi Abair, Gerald Albright, and Richard Elliot for a chat about their musical origins and the musical path that took them where they are today.
It was surprising to find the group has an incredibly diverse musical history; from Koz, who started with the saxophone while trying to emulate his brother, to Elliot, who jammed with the likes of Art Pepper and Horace Silver as a teenager.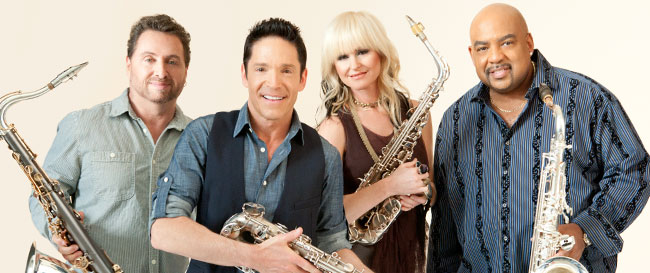 How did you get started with music, and the saxophone?
Dave Koz: I started because my brother had a band that was playing weddings, bar mitzvahs, and fraternity parties; and they didn't have a saxophone player. I just wanted to be in the band. If they didn't have a bass player I would have picked up the bass, but they didn't have a sax player, so that's why I picked up the saxophone. Then I proceeded to drive my brother crazy. It was on. I drove him nuts until he said OK [I could be in the band] just to get me off his back and that's how I started to play the saxophone. I was 13 when I started and by 15 I was in the band. But not making the same money as everyone else…
Mindi Abair: My family brought me into it. I grew up on the road with my dad's band. It was a band call The Entertainers – Blue Eyed Soul. We didn't even have a house until I was about 5, we just toured, and I would watch him on stage every night and they were just high energy and they were fun. My dad played sax and B3 and I would always watch him out there and he had moves, his knees were knocking, and he was out there rocking and rolling. So, when school band came along the teacher came into the room and there were instruments everywhere and she said 'just pick and instrument and sit down and then we'll learn how to play them.' I looked around and nothing looked as cool as the saxophone. I would always watch my dad up there playing and he was having such a good time so that's how I got into the saxophone.
I wasn't really exposed to a lot of Jazz early on. My father would tell me to listen his old records but he was my father, I didn't want to listen to what my father was listening to. I was listening to Tina Turner and her hunky sax player, [Bruce] Springsteen, Clarence Clemons, that kind of stuff. But eventually I saw David Sanborn and he was a nice missing link for me. He was enough Pop and Rock and Jazz and it was a nice turning point for me. But I still play a little bit of everything – Jazz isn't the only thing in my life.
Gerald Albright: I started playing piano when I was 8 years old, and it was a request from my parents. We had this old upright piano at home and it just so happens that our choir director at our church was my piano teacher and at 8 years old I absolutely hated piano. I would look outside and see all the other kids playing baseball and football and I wanted to do that, but of course my parents made me study the scales on the piano. I hated it for about a year, until finally my teacher says to my parents 'he's not feeling this, we need to put him on another instrument,' and it happened to be the saxophone. He had an old sax that sat in his garage from when he used to play in the army. It was a storage saxophone that had been in his garage for years, and unannounced he brought it to my next lesson, and he popped open this case that smelled like history, it just had years of mold and all kinds of stuff going on. And he put it together and put the mouthpiece on the horn and I made my first little sound, and long story short, I've been making it ever since.
Richard Elliot: I grew up in Los Angeles, and my parents started me on the accordion when I was 9-years-old, and luckily that didn't scar me for life. I did that for about a year before putting it down, but when I started middle school I was going to summer school and I took a band class just because I thought it would be fun to do, and I looked around and I spotted a tenor saxophone – Specifically a Tenor. For some reason that just got my attention, and I started playing, but it wasn't something I took seriously, it was just something that was fun to do. But it was great, because it kind of rekindled my interest in music. I did that through Jr. high, and high school, and when I got into high school I was very lucky because our music director was also a studio musician in Los Angeles. He played with the Don Ellis Band, whcih was one of the real pioneering big bands in the mid-70s. So, that's what really hooked me – Him and the people he hung out with. He had a rehearsal band, where his musician friends would get together at his house, a big 17-piece band, and all the student s from the music department would all go to his house on Wednesday nights and listen to his big band play.
Little friends of his would also show up, like Horace Silver, and Art Pepper, so for a kid – I was 15 years old – this was it for me. I just said to myself 'I don't know if I ever could, but I want to do that,' and that's what did it for me.
Watch the group talk about their musical origins, alongside their main influences experiences below: