At the 2011 Iowa City Jazz Festival, we found the members comprising Double-Wide to be as mischievous as their album "Puppet Mischief" would lead you to believe.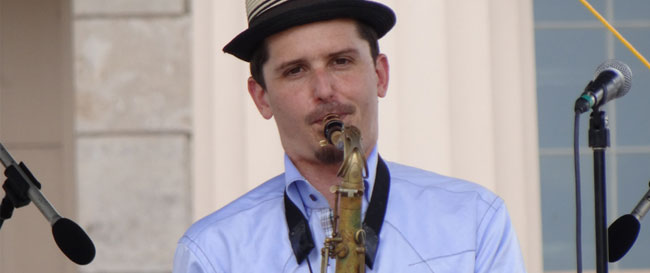 On first approach the members agreed to a full interview, but requested the interview be a "Roast" of their performance.
What followed, I can only attempt to explain.
John Ellis (tenor sax, bass clarinet), Jason Marsalis (drums), Matt Perrine (sousaphone), Brian Coogan (organ), and Alan Ferber (trombone) joined me for the roast of the performance which, they joked, had been mistaken for practice. Not much of a roast occurred, but laughter and jokes still ensued.
What really transpired was a performance filled with New Orleans flair inspired by their interpretation of the mind of a child. The last tune played in the video is "Dubinland Carnival." Ellis introduced the tune as a brief trip into an imaginary carnival only a child could believe. The antics of this group lead me to believe they only had to look inside themselves for the fun and imagination behind this carnival.
Enjoy this treat from John Ellis and Double-Wide.