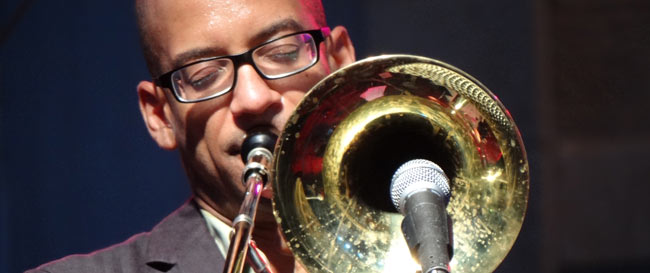 Saturday night at the 2011 Iowa City Jazz Festival was capped off with a performance by the Josh Roseman Unit. This performance was marked by a certain playfulness, displayed most obviously by bandleader and trombonist Josh Roseman.
Roseman is no newcomer to Jazz, and it shows. Throughout this interview he shows his extensive knowledge of Jazz music production, manipulation of electronic sound, playing within a group and his plans to begin producing music through his own company. Clearly the future holds many exciting things for Roseman.
His group in this performance featured a second trombonist and rhythm guitarist Curtis Hasselbring, who contributed to the musical playfulness on stage that Roseman described as an "opportunity to investigate compositional spaces with a different sense of grounded-ness." The performance also featured other members of the Josh Roseman Unit including Ted Poor on Drums, Peter Apfelbaum on Electric Piano/Synth, and Barney McAll, who is rumored to have sampled a broken down grandfather clock, on Piano and Electronics.
Roseman can also be found leading his large ensemble under either the name King Froopy All-Stars, The Unknowns, or the Extended Constellations; or with his trombone choir the Water Surgeons.
Check out the interview below: