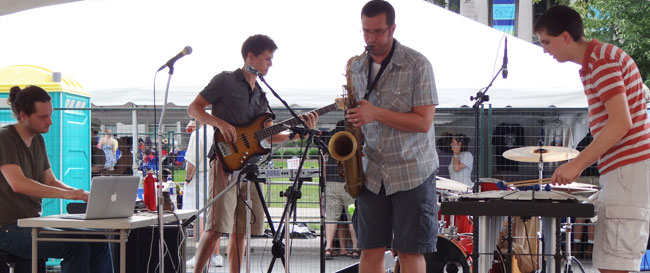 Jazz, Rock, and Electronica are a dangerous combination for any Jazz musician – Such a mix is a veritable no-mans land of bad 'crossover' albums, critical rejection, and poor album sales for even the most 'famous' and 'talented' of musicians. Given that fact, it's hard to believe a band that was formed for an "Easy A" in a university combo class could be making waves in the midwest music scene doing exactly what so many musicians have failed in – Creating a refined mix of Jazz, Rock, and Electronica that is bold, unique and invigoratingly innovative.
And that is exactly what midwest band Koplant No are doing.
From their beginnings as students at The University of Iowa, Koplant No have refined their sound and have successfully carved out their own space in the Jazz world.
We caught up with group members Joel Vanderheyden (Saxophone), Brian Lewis Smith (Trumpet/Programs), Drew Morton (Bass/Synth), and Rob Baner (Drums/Vibes) after their performance on the Local Stage at the 2011 Iowa City Jazz Festival, where they played a mix of newer compositions alongside tracks from their debut self-titled album
released in 2010.
Check out the interview below: