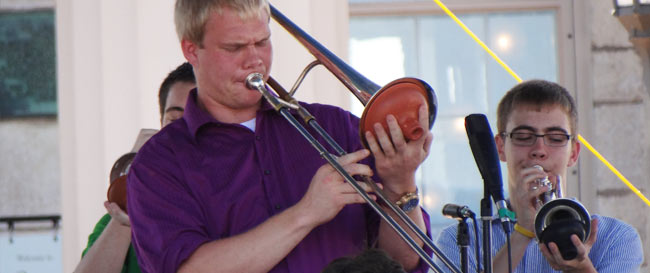 The North Corridor All Stars are a group of high school age students from Waterloo, Cedar Rapids and Cedar Falls area schools that excel in Jazz music. These students were hand-picked for this ensemble for the specific purpose of playing at the 2011 Iowa City Jazz Festival. We caught up with most of these students as they looked forward to the prospect of performing in front of thousands of people in their performance.
The ensemble, led and organized by Brett Messenger and Steve Shanley, seemed like they had been playing together for years, when in fact they have only had three rehearsals together. Their energy shows in their performance and their excited attitude towards playing.
We will be looking forward to seeing more and more students participating in the festival in years to come. The festival also featured a youth stage and a college stage to showcase the talent of the younger generation who will, undoubtedly, be gracing the main stage in years to come.
Check out our interview with the band below: