We caught up with Tia Fuller ahead of her performance at the Clearwater Jazz Festival.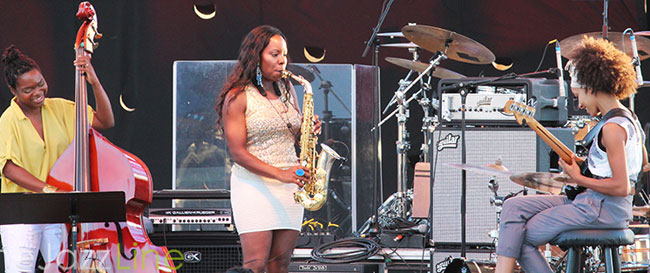 During the rather in-depth interview (which is split into two parts), we asked the saxophonist about everything from her experiences on the road as part of Beyonce's all-female world-tour band through to the current state of Jazz, who she's listening to right now.
Check out Part One of The Jazz Line's Tia Fuller Interview below:
Fuller's latest album 'Angelic Warrior' was released last year on Mack Avenue Records, and received a 5-star review on The Jazz Line, so of course we had to to ask her about that project alongside the highs and lows of leading your own band and the monumental task of producing your own album.
Check out Part Two of The Jazz Line's Tia Fuller Interview below:
Be sure to watch to the end to hear a snippet of her performance. Fuller's performance was incredibly diverse and well received by an unfortunately sparse but no doubt highly entertained audience. The performance was a true family affair, featuring Tia's sister Shamie on Keys and brother-in-law Rudy on Drums, with Mimi Jones rounding out the Quartet on bass; assisted on occasion by guest performer and Grammy award winner Esperanza Spalding.
>> Check out our review of the Clearwater Jazz Holiday here.