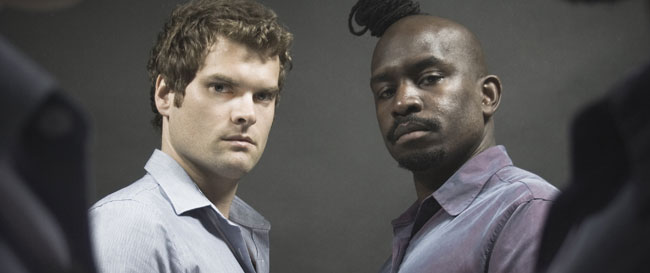 The Jazz Line's Editor David La Rosa caught up with the McCormack & Yarde Duo – A Sax/Piano duo consisting of two former UK 'Jazz Warriors' Andrew McCormack and Jason Yarde – immediately following their performance in support of infamous multi-reedist Michel Portal.
The pair played a selection of songs from their recently released album 'Places and Other Spaces'. Beginning gently with McCormack's composition, 'Spanish Princess'; McCormack softly leads the classically influenced track and Yarde softly plays the Soprano sax. Amid the soft blue lighting and swirling smoke of the stage, the audience found themselves lulled into a false sense of security, and would be forgiven for thinking they had accidentally walked into the Proms instead of a Jazz Festival.
The connection between these two musicians is clear, almost visible at times, even through the swirling smoke. The surreal ambiance of the stage suggests that there may be more to this duo than gental Jazz, something that becomes clear as the duo move on to Yarde's composition, 'Hillwalking On The Tynerside'.
Donning the Alto, Yarde's sax becomes more aggressive and the piano more percussive as the tune conjures up images of walking through a quiet storm that grows louder throughout the tune. It becomes clear the set has been strategically chosen to create a dynamic rise which leaves the audience shocked by the dynamic storm created by a mere Duo. As the duo get louder, and more adventurous, more percussive, more aggressive, the stage lights turn red creating a visually complimenting the dynamic intensity of the duo as they closed their set with the Free-Jazz inspired 'Dark Too Bright'.
There is something pure about the Duo format. The space, the freedom, the exposure, the danger – All managed perfectly by these former 'Jazz Warriors' who, already worth more than their weight in gold as soloists, prove their unique duo is worth more than the sum of its parts as they whet the audience's musical appetites for Michel Portal's set to follow.
Watch our interview with McCormack & Yarde Below: