Saxophonist Tia Fuller is about as musically diverse as one can get. From her stints on the road with pop superstar Beyonce, to leading her own band, and most recently serving as the assistant musical director for Esperanza Spalding's Radio Music Society tour, you could say that Fuller has taken full advantage of the versatility that comes with being a musician. Those experiences have also helped shape her musical and personal style. We got a dose of that evolution on her last album, Decisive Steps, in which she elegantly embraced her feminine appeal and artistic distinction as a contemporary jazz saxophonist and composer.
Now, Fuller's musical and stylistic progression has come full circle in the form of Angelic Warrior, her third album for Mack Avenue Records. There is a real heroic spirit to the album, emphasized in part by Fuller's highly developed sense of dexterity and gracefulness on the alto and soprano saxophone. She stretches her creativity by utilizing the piccolo and electric bass as one of the main instruments for melodic and harmonic purposes. Bassist John Patitucci and Fuller have great musical chemistry as they both create colorful textures while showcasing their improvisational skills.
Fuller is also in good company with her longtime pianist and sister, Shamie Royston, and drummer Rudy Royston (Fuller's brother-in-law), who all take the spotlight on the up-tempo, optimistic number "Royston Rumble." The husband and wife team start the track off and then Fuller takes the lead, engaging in a complex solo spurt before Patitucci comes in and slows the piece down with mid tempo phrases. That up-beat tune is followed by the sexy, Latin flavored "Ralphie's Groove."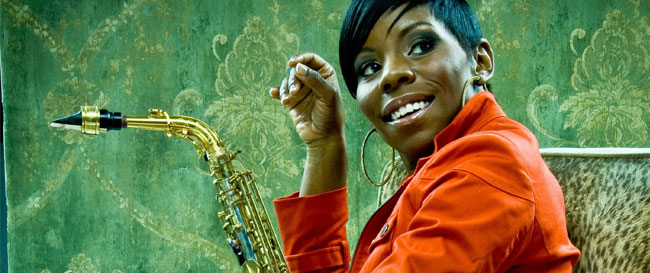 In addition to her original compositions, Fuller spices up a few standards such as "Body and Soul" which features the classy vocal stylings of Dianne Reeves and the rhythmic heavy tune "So In Love w/ All Of You" a distinctive arrangement of two Cole Porter songs, "So in love" and "All of You." She also tackles the bebop classic "Cherokee" and puts an electronic, jazz fusion twist on the song with a rapid jungle beat provided by drummer Terri Lyne Carrington, who also arranged the tune with Fuller.
Another positive note about the album is its diverse song selections, and its embracing of the past while celebrating the modernity of jazz.
The edgy, rock 'n' roll and R&B groove "Tailor Made" which features a crafty electric bass line from Patitucci attests to the album's eclecticism as well as the Caribbean-esque tune "Descend to Barbados."
The title track "Angelic Warrior" has a virtuous tone as reflected through the high pitched timbre of Fuller on soprano sax and at the same time, the military style rhythm by Carrington symbolizes the courageous spirit of her music. The tune fluctuates between a fast and slow tempo and ends on a fierce note.
Fuller has definitely broken out of her shell as an artist and continues to push her creative limits to the max. Angelic Warrior is proof that she can incorporate popular music into her style while still staying true to her jazz roots.

Key Personnel: Tia Fuller (saxes), Shamie Royston (piano, Fender Rhodes), Mimi Jones (bass), Rudy Royston (drums), Shirazette Tinnin (percussion), Terri Lynne Carrington (drums), John Patitucci (bass), Dianne Reeves (vocals).