In 2007, Medeski, Martin and Wood went on the first acoustic tour of their career. This experience served as the inspiration for the trio's newest album, 'Free Magic,' which consists of five tracks from that groundbreaking tour.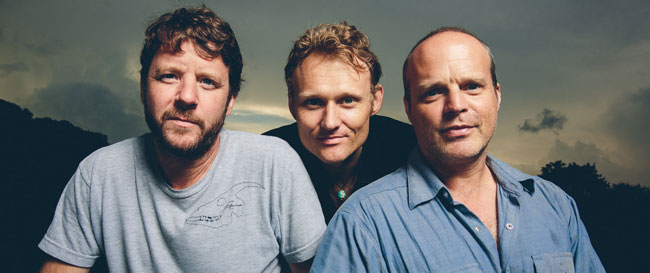 'Free Magic' draws a marked contrast from many of the group's studio albums in that the five tracks on the album are much longer and highlight the trio's uncanny ability to communicate with each other and improvise collectively.
It's not that their other albums don't showcase those skills, but in my experience with MMW many of their albums tend to focus on groove and melody. While 'Free Magic' is closer to chamber music and incredibly free at times, MMW's unique sound is still preserved throughout the album.
The first cut on the album is Wood's "Doppler." The song leads with Martin playing a fast paced and rhythmic balaphone. Medeski, on toy piano and Wood, who bows his bass, weave their way through a free lead before they find themselves with the familiar melody from Doppler. By that time Martin has seamlessly switched to a trap set and Medeski throws down a mean solo that fits the soul jazz nature of the tune.
Medeski blasts out of the gate with an equal mixture of free improvisation and high energy as he plays alone for the first few minutes of "Blues For Another Day." But before you know it the song takes a drastic shift to a much more relaxed, depressed tempo, 12 bar blues. Now Wood and Martin are playing with Medeski as they play the blues for a while before launching to a blazing fast waltz that's packed with energy before Medeski switches gears and leaves the listener with a slow and bluesy tag.
"Free Majic/Ballade in C Minor" begins with MMW creating a abstract crashes, squeaks, creeks, and various other sounds. Wood plays some magnificent bowed harmonics and Medeski ads texture with a upright piano. The song appears to almost evolve as the trio prepare a seamless transition into "Ballade in C Minor" before Wood winds the the track down with a melodic solo.
"Where is Sly" is beautifully played by the trio. Medeski's active piano playing makes up for the lack of other instruments that are often heard on other recordings of "Where is Sly". Comparisons to other recordings stop there as Medeski makes the track his own, playing with the melody and fluttering in the upper register of his piano more than a few times. Martin then rips out a lengthy solo where he finds every inch of his kit, every drum head, every cymbal, and other percussion instruments through to the end of the song.
'Free Magic' ends with "Nostaglia" – A medly of Mingus' "Nostalgia in Times Square" and Sun Ra's anthemic "Angel Race." Of all the songs on the album this has the most traditional feel. Its soulful and playful and somewhat more peaceful than the rest of the album. However, it still showcases the group's communication skills and Medeski really shows his chops on this tune as well.
'Free Magic' as a whole is different from any studio album MMW has released. It shows the trio in a raw setting where the effect of their 20 plus years of musical collaboration really take the foreground. Their seamless communication is a wonderful example of how music is truly a universal language. Medeski Martin and Wood show on this album how well they can speak it. 'Free Magic' is well worth dedicated listen and shall not disappoint.