Since the release of her debut album, Junjo, music virtuoso Esperanza Spalding has not only been one of the main topics of discussion in jazz circles, but she has stirred up conversation within the cliques of almost every musical genre out there.
It could have something to do with the fact that she creatively blends various genres such as pop, R&B, and world music into her sound while also staying true to her jazz roots. Or, it could be her surprising (but well deserved) win for Best New Artist at the 2011 Grammys. Or, perhaps, it's her light, yet captivating soprano voice and impressive chops on the bass. Whatever the case, Spalding's eclectic  sound has the ability to ignite a joyful response from a crowd whenever in their presence. During her recent performance at the Power Center for Performing Arts in Ann Arbor, Michigan, the reaction was no different.
Spalding enticed the crowd by taking them on a live journey through her latest album, Radio Music Society, which has received rave reviews since its release in March. Veteran jazz artists and young musicians, who made up her big band, added a layer of eloquence to the swinging, versatile compositions performed during the evening.
Rapid soloing and fluid high notes from Spalding soared to new heights, especially on tunes such as "Hold on Me" and  "Smile Like That" in which Spalding shared the spotlight with talented alto saxophonist Tia Fuller. During the tune, Spalding and Fuller exchanged harmonious riffs with one another, with Spalding scatting in a form so sensuous it would have made even the great Ella Fitzgerald proud.
Another thing to note about Spalding is that she produces great tribute records. On the royally titled "Crowned and Kissed," she paid homage to all the hard-working men who dedicate their lives to their family. Boston based trombonist Jeff Galindo, whom Spalding also highlighted a "crowned king" conjured up an amazing solo.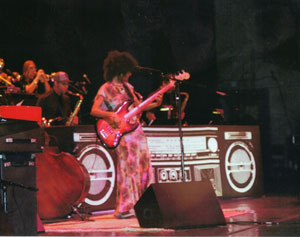 While the first part of the show dealt with love, the second part was much more socially charged and consisted of tributes of a different sort. The poignant, organ accompanied tune,  "Land of the Free" started off with commentary by Spalding in which she detailed the wrongful imprisonment of Cornelius Dupree, who spent years in jail for a crime he did not commit. She also highlighted the staggering statistics of African American men sent to prison every year. On "Black Gold" Spalding was joined by vocalist Chris Turner, whose soulful crooning was also a bit melancholy as he mentioned fallen young African American boys such as Trayvon Martin.
Just as the show was about to get too emotional, she switched gears and broke out into a full fledged jam session on the Wayne Shorter classic, "Endangered Species."  It was hard not to want to get up and dance as the rhythm continued to escalate all the while Spalding stood back and let her band take the lead.
There was nothing but pure energy from the band led by the spontaneous Spalding as they closed out the show with the funky tune "Radio Song."  As the lyrics suggests in the song, it truly felt like the radio was turned on high and no one in the audience could help but bob their heads to the beat and sing along. That powerful element that Spalding possesses was ever present during her performance and I am glad I was able to witness the magic.