Labor Day in the Motor City was once again full of great music, energetic musicians, and an eager audience for the 34th Annual Detroit Jazz Festival, which took place August 31-September 2. Detroit musicians took center stage and showed out during the festival, especially since Metro- Detroit native and artistic director Chris Collins was behind the event for a second year. Collins, who is also a musician and Director of Jazz Studies at Wayne State University, held strong to the festival's theme "Imported From Detroit" by incorporating Motown blood into many of the festivals performances.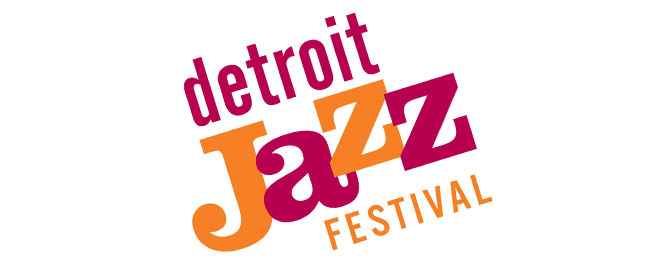 As is only fitting for a festival of this caliber, a plethora jaw-dropping talent were on-hand to dazzle the crowd, including the bad boys of Blue Note Records – The Robert Glasper Experiment, voracious vocalists Gregory Porter and Cècile McLorin Salvant, veteran pianists McCoy Tyner and Ahmad Jamal, R&B singer Macy Gray and powerhouse pianist Danilo Pèrez. Pèrez, who served as the DJF Artist-in-Residence, opened the festival Friday night with his quintet Panama 500 and premiered some tunes from the group's self-titled upcoming album Panama 500. Pèrez let the audience know ahead of time that the band had never played the songs live before so they should expect some "adventures and dangerous moments."
And that's exactly what the crowd got. It's always risky for a musician to debut new music to an unsuspecting audience, especially during opening night. Their risky attempt showed, at least during the first half of the set as they warmed up with Latin tinged, rhythmically challenging tunes such as "Rediscovering the Pacific Ocean," and "Panama 500." By the third tune, they found their groove and even got the audience involved in the performance by having them engage in a solo during certain parts of his songs. The rain came pouring down right in the middle of Macy Gray's performance with saxophonist Dave Murray's big band as she turned on her jazz swag while singing tunes from Murray's latest album Be My Monster Love . But not even a somewhat awkward start to the festival could ruin the amazing performances that took place over the Labor Day weekend.
Here are highlights from just a few of the performances during the festival: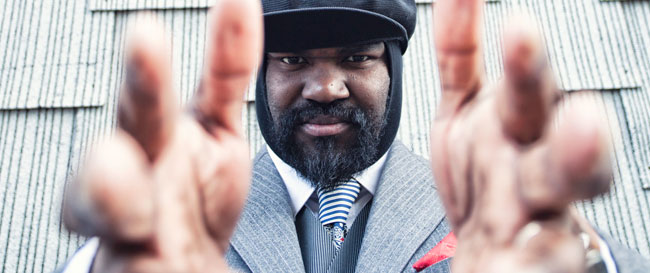 Gregory Porter: Newly signed Blue Note Records artist Gregory Porter is at the very top of the jazz totem pole right now, and his performance on Sunday afternoon further proved why he is so deserving of this high musical stature. This was Porter's first time performing at the festival and he emphasized his excitement at finally being there, especially after having featured a song on his album Water about the Detroit riots in 1967. He started the show off with a few tunes from his latest album Be Good, which included a heartfelt rendition of the wedding song "Real Good Hands" as well as "Painted on Canvas" and the soulful tune "On My Way To Harlem." He followed that up with a fiery and rhythmicly heavy performance of the self titled track from his new album Liquid Spirit, which hits stores September 17. He encouraged the audience to take part in the song by clapping their hands. He closed the show with the radically turbulent tune "1960 What" which featured Detroit saxophonists Vincent Bowens and Kamau Kenyatta, who both ignited the stage even more with their blazing solos.
McCoy Tyner Trio w/Savion Glover: Legendary pianist McCoy Tyner's performance on Saturday night further proved my point from last year's festival, which is that age is not a factor when it comes to giving incredible performances. Tyner, 74, who was a part of the famous John Coltrane quartet during the 1960s, has been perfecting his post bop style for over 50 years, and his superior skills on the ivories were in full force with his Trio and special tap-dancing guest Savion Glover. Along with some funky backing, Tyner forcefully banged on the piano rapidly creating rhythmic thunder and Glover pushed the performance even higher by trading call and response gigs with the band, which included a show stopping battle with the drummer. It felt like a cutting contest from the 20s; the only thing is I couldn't tell was who was better, the drummer or Glover. The Trio and Glover's big finale was a funky rendition of Herbie Hancock's "Cantaloupe Island."
Mac Avenue SuperBand: DJF brought back the ever popular Mac Avenue SuperBand, which consisted of label-mates Kirk Whalum, vibraphonist Warren Wolf, drummer Carl Allen, guitarist Evan Perri, pianist Aaron Diehl, trumpeter Sean Jones and bassist Rodney Whitaker, who led the band as musical director. While all of the musicians are household names, they gelled well together, but each got a chance to show off their composing and/or instrumental skills during the set. Their performance started with a Warren Wolf original titled "Soul Sister" which got the band in gear, and ended on a high note with Diehl's virtuoso solo. The peak of the performance had to be when special guest Gary Burton shared the stage with Wolf and they performed a sensational cover of Chick Corea's composition "Senor Mouse" in which Burton played vibes on the original. You could tell by the smile on Wolf's face that he was truly taking in this historic moment playing with one of his heroes. And the audience soaked up every minute of the duo's performance and kept shouting as both Burton and Wolf took their improv to new levels.
James Carter: Saxophonist James Carter sure was a busy man during the festival as he wore a few hats, not only contributing to performances, but also leading one of his own. His main role during the festival was paying tribute to the jazz gods before him, such as the late pianist, saxophonist, and bandleader Teddy Harris Jr. Carter played with Harris' orchestra New Breed Bebop Society on Saturday, and then paid tribute to his hero saxophonist Don Byas with a special set that consisted of Byas originals. One thing to note about Carter is that he is an excellent facilitator of bebop standards, so there was an abundance of brilliance executed during his set as he fearlessly went through "1944 Stomp," "Free and Easy," "Livin My Life," and "Savoy Jam Party" all with ease and no shortage of swiftness. He was joined by an equally talented crew of Detroit-bred musicians bassist Ralph Armstrong, organist Gerard Gibbs, drummer Leonard King, and newcomer trumpeter Theo Croker who won Marcus Belgrave's National Jazz Trumpet Competition.
Cècile McLorin Salvant with Dave Berger Orchestra: Vocal sensation Cècile McLorin Salvant is having about the best year a jazz singer could have, and after just one listen to her, there is no one who could argue with the fact that she is a star. She justified her stance as a successor to jazz legends Billie Holiday, Sarah Vaughn and Ella Fitzgerald during her dazzling debut with the Dave Berger Orchestra. Berger arranged a whomping heap of standards for Salvant to stride through during their performance Saturday night and she wowed the crowed with her deep resemblance to jazz royalty. Yet, while Salvant did an amazing job dramatizing every tune with her infectious voice, she did little to engage with the audience and just seemed to go through every song in a very rehearsed stance. There was no wow moment during the set, which consisted of songs "My Baby Cares For Me," "I Wanna Be Loved By You," "Mad About The Boy," and "The Gentleman Is A Dope," just to name a few. I would have loved to see her dazzle the audience with tunes from her debut album Womanchild; in which she tackles a myriad of genres from ragtime to the blues and jazz. The crowd was stunned by her vocal maturity and many could be overheard saying "wow can you believe she is only 23!" But, it's obvious that Salvant can knock out standards with no problem, but maybe next time she will go above and beyond her comfort zone.
Honorable mentions from the fest: Here a few more acts that gave amazing performances.
Marcus Belgrave: Detroit based trumpeter Marcus Belgrave is a legend, especially among Motor City acts and he has mentored tons of musicians. He put the spotlight on some heavy hitting trumpeters from the D like Rasye Biggs and Dwight Adams, and they blew the night away with their rich sound.
Freddy Cole Quartet: Freddy Cole was one of many jazz veterens, including Ahmad Jamal and Mccoy Tyner, who blessed the fest with their masterful skills. At 81, Cole was smooth as ever during his set and charmed the ladies with a set of blues based ballads.
Aaron Diehl: Mac Avenue pianist Aaron Diehl gave us a dose of his virtuoso skills and channeled his predecessors like Tommy Flanagan and Barry Harris during his set, which featured Warren Wolf on vibes.
Karriem Riggins: Drummer Karriem Riggins knows exactly how to eloquently balance his jazz roots and allegiance to hip hop. During his set, which featured a DJ, Riggins poured out some classic jazz fusion and a bit of hip hop remixes from back in the day.