The Detroit Symphony Orchestra opened its annual Paradise Jazz Series with the renowned jazz vocalist Dianne Reeves. The concert took place October 17 at Orchestra Hall and the venue was filled with fans of the iconic singer, who has been performing for over 30 years.
To give just a brief recap of Reeves background, she has been an active jazz vocalist since the 1970s touring with Latin American band Caldera, Brazilian musician Sergio Mendes, and in the 1980s with entertainer Harry Belafonte.
The four-time Grammy winner broke out as a solo artist in 1982 with her début album Welcome to My Love, and in 1987 she was the first singer signed to the revived Blue Note/EMI label. Throughout her career, Reeves has maintained success as a vocalist after releasing over 20 albums.
During her performance, she showcased her beautifully elegant and rich vocal skills and gave us a glimpse into the spirit of the dynamic vocalists she is reminiscent of like Sarah Vaughn and Dinah Washington.
She was joined by her band bassist James Genus, guitarist Romero Lubambo, drummer Terreon Gully, and special guest pianist Gerald Clayton, who will be performing alongside his father bassist John Clayton during a future Paradise Jazz Series concert.
Dressed in a black top and flowing black and red printed skirt, Reeves was full of life and full of stories, which is one of her signature segments during her shows. She exercised the full stretch of her three octave range during the Latin-inspired tune "Tango" which appears on her most recent album Beautiful Life. The beginning of the song finds Reeves chanting beautifully in a capella as the percussion thunderously moves to her every beat. Reeves just about turned the evening into a Latin dance club as she moved vigorously to the sound of the music. She then told, or better yet sung, the story of how she boogied the night away at Cuban singer Celia Cruz' concert during the 70s.
Reeves is definitely an artist who can hold her own in any genre, including R&B, soul, pop, and Latin, which she proved during the rousing performance. She then turned the mood into a scene from the film "Stormy Weather" with her popular rendition of the standard tune.
Trumpeter/composer Terence Blanchard joined her on stage for the song and created smooth, lush chords as Reeves sung in a lower register to showcase the somberness of the song. Blanchard, who is the artistic director of the Paradise Jazz Series, was a perfect match for Reeves who turned her voice into a musical instrument and tastefully imitated every note Blanchard played.
She followed that with another jazz standard called "Our Love Is Here To Stay," this time sharing the stage with Lubambo, a Brazilian jazz guitarist whom Reeves called a dear friend and has worked with for many years.
Her amazing ability to scat the night away, much like the jazz great Ella Fitzgerald was again highlighted during the song along with fluid and sweet melodies from Lubambo.
After a brief intermission, she performed a few songs from Beautiful Life, including a soulful, seductive version of the Marvin Gaye song "I Want You" and the Bob Marley reggae song "Waiting in Vain."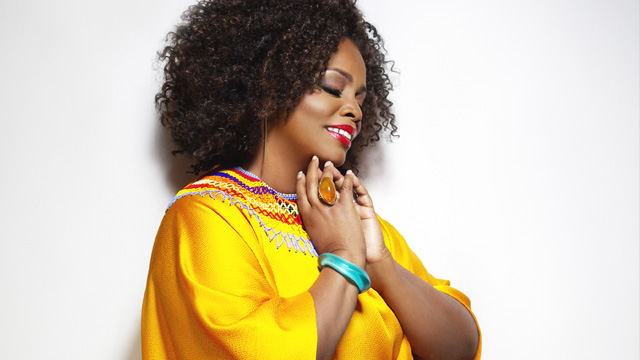 The most soul-stirring moment of the night is when she told the funny story of how she met actor George Clooney and worked with him on the 2005 film "Good Night and Good Luck," where she plays a 1940s jazz vocalist. She sung every tune on the soundtrack, for which she won a Grammy for Best Jazz Vocal Performance, and gave the audience a taste of her bluesy side with "One For My Baby," which featured a funky solo from Genus.
Reeves spent most of the night performing songs by other artists, but she saved one of her own most popular R&B songs for last. The nostalgically classic tune "Better Days" in which Reeves reminisces about the lessons her grandmother taught her has become one of her most well-known tunes, so she couldn't leave without playing at least a few bars of the record during her encore performance.
Witnessing Reeves live in concert is an unforgettable experience that everyone, especially those who are lovers of classic jazz vocalists, should experience at least once in life. There's no denying that Reeves is one of the greatest living jazz singers we have.