A couple of months ago during Labor Day Weekend, one of the largest free jazz festivals in the world took place in the Motor City and there were tons of jazz geniuses in the heart of the D playing beautiful music. This past Saturday the city got another small taste of the Detroit Jazz Festival's magic when they sponsored a special concert starring the Wayne Shorter Quartet and vocalist/bassist extraordinaire Esperanza Spalding.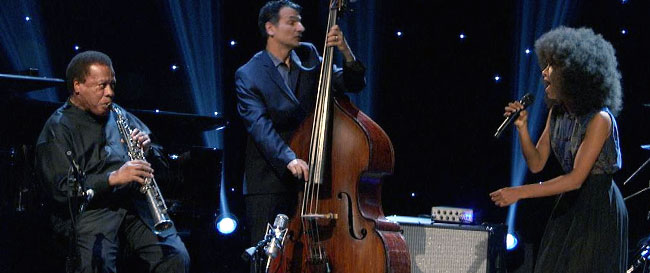 Shorter, who turned 80 in August, is truly a legend in the industry and is continuing to give the young musicians a run for their money, especially with his longstanding, power-driven quartet, which has been together for over 10 years. He wowed the crowd during his performance at last year's Detroit Jazz Festival, so it's not surprising that he was brought back to spark some more flames.
Shorter was commissioned to perform his latest orchestral-vocal piece "Gaia" specifically for the DFJ concert. He debuted the piece in February with the Los Angeles Philharmonic and this was his last time performing the composition for the year. He previously performed the piece with orchestras in Washington D.C. and Nashville.
Shorter also showcased a number of his larger orchestral works, which are rarely performed for the public.
The quartet, which includes bassist John Patitucci, pianist Danilo Perez, and drummer Brian Blade and Shorter on soprano and tenor saxophone was joined by the Detroit Symphony Orchestra on a number of lush, vibrant pieces including "Viendiendo Alegria," "Flagships," "Diana," and "Forbidden Fruit."
Dressed in a beautiful black dress and golden pumps, Spalding joined the quartet and the DSO halfway through the concert to showcase the two vocally based songs "Gaia" and "Midnight in Carlotta's Hair."
Shorter wrote the song "Gaia" to showcase Spalding's youthful energy and her natural ability to capture a crowd with her light, captivating voice. The strings and horns steadily elevated the tempo until Spalding began belting out a burst of animated vocal expressions. The only frustrating part of the performance was that it was difficult to hear the lyrics of the song due to the boisterous sound of the orchestra and quartet. Spalding did her best to make her voice soar beyond the strings and horns, but unfortunately only certain spurts of her lyrics were clearly heard.
The closing piece "Midnight in Carlotta's Hair" was much more lucid and even Blade's monstrous drumming technique could not hinder Spalding's elegant vocal chanting from being noticed. Her voice ascended to new heights while the orchestra did their best to keep up.
The last song made up for the somewhat disappointing performance of "Gaia." But, overall, the concert once again proved that there is nothing too big for Shorter to handle when it comes to music.
While no video of the special concert is currently available, get a sense of Wayne Shorter and Esperanza Spalding's musical chemistry as they perform "Starry Night" on the Arsenio Hall Show:
https://www.youtube.com/watch?v=FBZF-thbaoM