Esperanza Spalding has unveiled a new protest song and video calling for the closure of the Guantanamo Bay detention camp.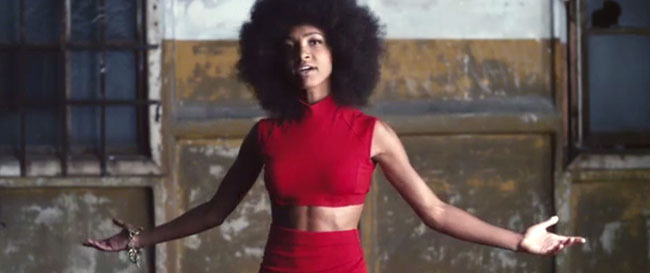 The Grammy award-winning vocalist, bassist, and composer poses the question "What does 'in the name of freedom' really mean?" as she joins human rights groups and activists around the world in leading a fresh call for the permanent closure of Gitmo in the song "We Are America."
The song lyrics are powerful, and show a poignant reflection on the legal and moral state of Gitmo, with Spalding singing: "They're taking no part in the hostile activities. Don't they deserve equal justice and civility? If this so-called great nation can't take responsibility, then in god we trust is an exercise in futility."
The music video for "We Are America" is just as powerful as the song itself, highlighting the rhetoric politicians have used to pander to the public's interest while taking very few steps to actually address the issues at hand. The video also features a number of special guests, including Janelle Monáe and Harry Belafonte, holding up cards with their own thoughts on Gitmo.
Of the 800 people -some as young as 15- who have had the misfortune of calling Gitmo home, only seven people have ever been convicted of any crime. 164 people remain in the camp today , and more than half of them have already been cleared for release after every U.S. intelligence agency unanimously declared that it was safe to send them on. And yet they remain behind bars, classified as "Non-Persons" in Cuba – A foreign country with no diplomatic ties to the United States of America.
Speaking about her motivations, Spalding wrote the song after hearing about the hunger strikes at the camp:
"I was touring in Europe, and I was appalled and embarrassed about what was happening. When I returned home, I remember I started researching online to see what I could do about it, and I saw that I could download this action pack."
While hunger strikes have been a regular occurrence at the camp since 2005, the strikes at the beginning for 2013 marked the first time a majority of Gitmo detainees participated, stirring up media attention about the force-feeding of prisoners and ultimately forcing President Barack Obama to re-affirm his intent to close the camp. However, after her enthusiasm on the closure of Gitmo wasn't matched by her local senator, Spalding decided to take matters into her own hands.
"I did call my representative and Senators. In fact, I got a letter back from one Senator who basically said that she was not going to proactively deal with it but that they would 'keep my comments in mind,' or something like that. But I really wanted to do more," Spalding said.
Esperanza hopes listeners will contact their senators and congressmen, calling on them to support the Guantanamo Bay provisions of the National Defense Authorization Act. The act is passed yearly to fund the U.S. Military, however this year there is a special provision which would remove many of the delays in transferring and releasing Gitmo Detainees.
Watch the "We Are America" music video below: