Billy Joel has announced his return to New York's Madison Square Garden.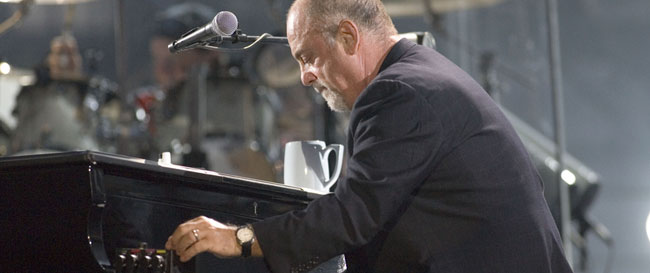 The 'New York State of Mind' musician will play four dates at the iconic venue, taking place on January 27, February 3, March 21 and April 18, 2014.
The dates will represent Joel's first full headlining concerts at Madison Square Garden since his one-of-a-kind 12-date concert run in 2006. He was last seen at the venue taking part in the 12-12-12 benefit concert for Hurricane Sandy relief.
>> Tickets for the new Madison Square Garden dates go on sale November 23.
In tribute to the classic rock icon, popular musical TV show 'Glee' aired an episode exclusively featuring music from Billy Joel last night. Joel commented on the show saying: "I'm one of those guys who watches the History Channel, and I watch news and I watch documentaries… but I'm very happy that my material is being done by people of that age group, and that I guess it has meaning for them.
"I'm always surprised when I look out at the audience [at concerts] and I see a lot of younger people, like they've discovered this stuff on their own. I doubt that a lot of younger kids listen to classic-rock radio. They have their own music now, and in light of that, I guess my stuff hasn't aged so badly that nobody wants to hear it anymore."
His music truly has weathered the test of time, and still remains popular among younger listeners. In the comments section of his website many of those seeking tickets are buying on behalf of their children, who seem to have made their own connection with Joel's music.
Billy Joel's Upcoming Concert Dates:
December 31, 2013: Brooklyn, NY (Barclays Center)
January 07, 2014: Sunrise, FL (BB&T Center)
January 11, 2014: Sunrise, FL (BB&T Center)
January 17, 2014: Tampa, FL (Tampa Bay Times Forum)
January 22, 2014: Jacksonville, FL (Jacksonville Veterans Memorial Arena)
January 27, 2014: New York, NY (Madison Square Garden)
February 03, 2014: New York, NY (Madison Square Garden)
March 21, 2014: New York, NY (Madison Square Garden)
April 18, 2014: New York, NY (Madison Square Garden)