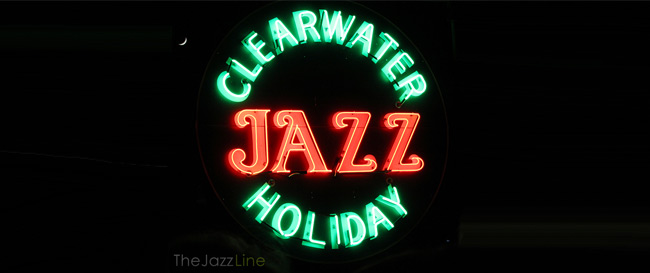 The 2012 Clearwater Jazz Holiday proved to be something of an enigma when it came around last weekend. Now in its 33rd consecutive year, the 4-day festival has always had a penchant for re-invention, and another round of changes meant the tradition would be continued this year. Principal among those changes: The line-up.
Despite its humble beginnings, the Clearwater Jazz Holiday has grown to become one of the largest and longest-running Jazz festivals in the country, with 40,000 people in attendance last year. While it still holds something of a low profile in the wider Jazz world, its organizers have always had a knack for attracting top-tier talent. In its first few years of operation, the holiday played host to many a Jazz titan, including Sonny Rollins, Dave Brubeck, Dizzy Gillespie, and Stan Getz. In more recent years, the festival gained a much 'smoother' reputation, having featured the likes of Kenny G, David Sanborn, Eric Darius, and Richard Elliot.
This year, however, the holiday took a step well outside of Jazz, inviting popular folk-rock group The Avett Brothers to headline the final day of the festival.
The mere suggestion of a non-Jazz performer at a Jazz festival is often met with vehement anger – something I don't condone, but certainly understand given the continued marginalization of the Jazz. However, the added genre diversity brought by the Avett Brothers (and the diversity of their audience) proved a welcome change to the final night of the festival. When asked by the Tampa Bay Times whether the band would be welcome at the festival, guitarist Seth Avett said: "We see a lot of festivals pushing the boundaries, and I think that's really healthy. The elitist festival is really a dying art. Genres are getting bent and getting stretched." One can only agree, given the recent success of Hip-Hop and Pop acts at the traditionally Rock-focused Glastonbury Festival in England.
Ultimately, there was no Jazz to be found in Avett's set, unless you count the few bars where they flex their improvisational muscles and fall into a Stride/Ragtime groove. Instead, the band stuck close to their roots in what proved to be an incredibly diverse and passionate set. The group's fans were also louder than your average Jazz fan in their applause and incredibly supportive of the group's performance, changing the atmosphere of the entire festival in a positive way, and contributing a certain energy that was absent for much of the festival, despite all the controversy.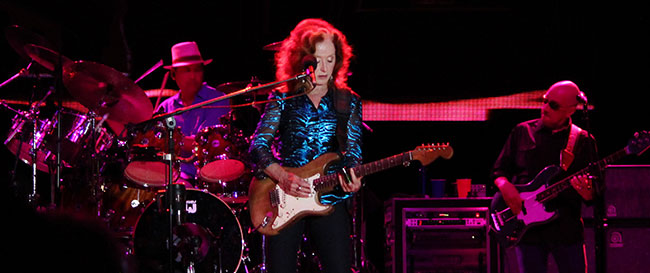 Another performer to cause controversy at the festival was Bonnie Raitt. You're free to speculate as to what rock I've been living under for the past few years, but I had never even heard of Raitt before she closed out the opening day of the festival. When Rolling Stone's Anthony DeCurtis described Raitt as "vastly underrated," I have no doubt that people like me are the reason for that. Fans of the Blues songstress came out in droves to fill what seemed like all 20-acres of the Coachman Park festival site. Raitt opened her set with two tracks from her latest album 'Slipstream.' The incredibly upbeat "Used to Rule the World" had most of the crowd grooving from the first note, followed closely by her relaxed soul/reggae-inspired cover of Gerry Rafferty '80s hit "Right Down the Line." Both tracks sound great on her album, but there's something exceptional about Raitt when she's 'in the moment' on stage. Backed up by Mike Finnigan (keys), George Marinelli (gtr), Hutch Hutchinson (bass), and Ricky Fataar (dr), Raitt proved herself as the consummate performer. Having been on the road for the better part of six months, the group come together exceptionally well atop Raitt's incredible ability to convey emotion through lyrics in a way I've never seen with any other vocalist. There's something raw and gritty about her voice live that makes listening secondary to, quite literally, feeling every word she's saying. She kept up the intensity for the entire set, even when performing hits she has likely performed thousands of times before. Chief among those stood "I Can't Make You Love Me." The band stripped down the already bare song, letting the sheer power and emotion of her voice really shine though.
Her appearance was widely questioned for the same reason as The Avett Brothers – She wasn't -strictly speaking- a 'Jazz artist.' However, after 40 years in the business, with 19 albums and 9 Grammys under her belt, I don't believe anyone has the right to question where she performs. Period.
Closing out the second day of the festival was Clearwater(/Tampa Bay) native, saxophonist Mindi Abair. She really pulled out all the stops as only a local could. She was placed on the program as 'Mindi Abair and Friends.' I don't think anyone expected those friends to include people like her father, pianist Lance Abair, or legendary performers Jeff Golub and David Packwho. Also falling into the friend zone was the entire marching band of the nearby Palm Harbor University High School and many others. Abair kicked the performance off on an incredibly high note and maintained that energy for almost three hours. Her set was very much indicative of the diversity of the entire festival this year, bringing Jazz, Soul, Blues, Rock, and everything in-between into the mix. She was just as comfortable playing Cannonball Adderley's "Mercy Mercy Mercy" alongside her father as she was putting an incredibly unique take on Hendrix's "Purple Haze."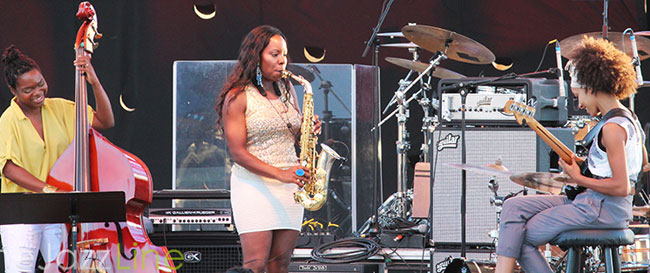 The third day of the festival, lovingly dubbed "Jazz Night" by festival-goers, saw three incredible performers take to the stage in the evening.
First up: Saxophonist Tia Fuller. Playing tracks from her 5-star album 'Angelic Warrior,' Fuller turned the performance into quite the family affair with her sister Shamie Royston (keys), brother-in-law Rudy Royston (dr), and Mimi Jones (bass) rounding out her quartet. Near the end of her set, after performing a funky bass-driven rendition of "Body and Soul," Fuller invited Esperanza Spalding on stage for the next song, another bass driven track titled "Tailor Made." The track is compositionally excellent, particularly the bass part, which has an incredibly intricate bridge. Spalding actually slipped up the first time she played it, missing a few notes and laughing it off. With the tradition of improvisation in Jazz, you know something's really complicated when you mess up and can't pretend you were actually improvising. Though the audience was sparse for this early performance, it remained an incredibly entertaining set.
Following on from Tia Fuller was critically acclaimed vocalist Kurt Elling, who was on top form and quick to demonstrate why he is widely regarded as one of the best male Jazz vocalists around. His incredibly unique take on the Frank Sinatra classic "Come Fly With Me," which appears on his latest album  '1619 Broadway: The Brill Building Project,' opened his set and translated incredibly well for a live audience. What followed was a fantastic display of vocal prowess. My personal favorite of the night being his performance of "Dedicated to You." Elling was noticeably happy while singing this song, bouncing on his heels and swaying his arms to the beat. If the veracious applause was anything to go by, it's safe to say the audience felt the same after the performance. It wasn't just vocal talent on show that night, however. Vocalists often have a hard time stepping aside and allowing their bands to shine, but Elling had no such issue. Accompanied by his long-time friend and pianist Laurence Hobgood and three others on guitar, bass, and drums, each musician got their fair share of time in the spotlight, however a special mention must go to guitarist John McLean. His solo during "In Summer" was a true highlight of the night, incorporating fast-picking, elements of fusion, and a level of virtuosity rarely seen in modern Jazz guitarists.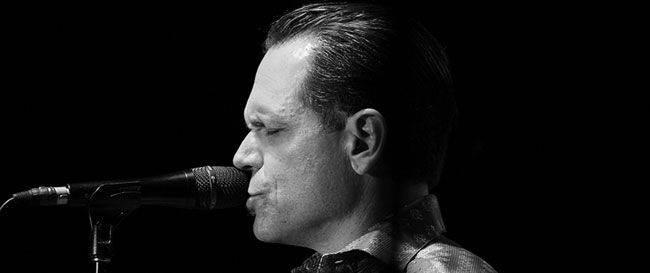 "Jazz Night" was closed out by Grammy award winner Esperanza Spading, accompanied by a small rhythm section, and a horn section led by the tour's Assistant Music Director Tia Fuller. The musicianship on display was excellent, with the solos taken by Tia Fuller and one of the tenor-sax players showing particular flare. Spalding herself switched between the double-bass and electric fretless bass throughout the night, putting on an entertaining show, as expected from one of the most popular Jazz musicians around today.
With its significant audience participation and high-school involvement, the Clearwater Jazz Holiday has the charm of a much smaller event. At the end of "Jazz Night," the festival organizers were invited on stage and offered a round of applause, which is incredibly rare for an event of this scale. Couple this small event charm with excellent musicianship set to a backdrop of cool breezes across the gulf of mexico and scenic sunsets and it's easy to see why so many people find the Clearwater Jazz Holiday so appealing.
Check out our 2012 Clearwater Jazz Holiday gallery below: