Esperanza Spalding has announced the dates of her upcoming world tour.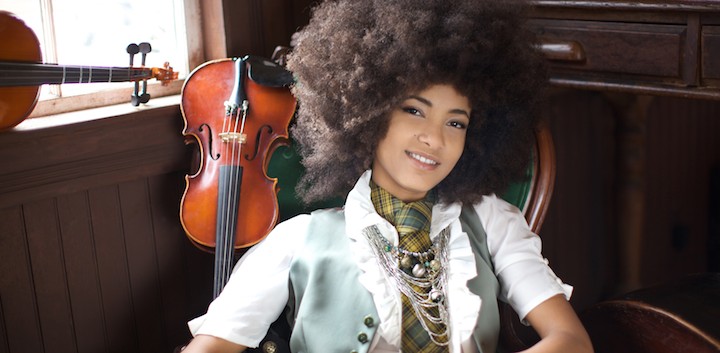 The bassist, vocalist, and composer will travel across North America and Europe in support of her highly anticipated album 'Radio Music Society', due for release on March 20.
The tour will kick April 18 in Buffalo, NY and will see the Grammy Award winner travel for almost three months before ending up back in New York, in Saratoga Springs.
Spalding is said to be in the process of adapting her material from 'Radio Music Society' into a dynamic 'big band' format for the tour.
'Radio Music Society' serves as a follow-up to Spalding's best-selling 2010 release 'Chamber Music Society'. The album is set to be the 27-year-old's most diverse and ambitious project to date, with tracks that feature, as Esperanza describes it, "jazz musicians exploring song forms and melodies that are formatted more along the lines of what we would categorize as 'pop songs'."
Every song on the album will have an accompanying conceptual music video, which will visually express the inspiration and story behind each track on the album.
Esperanza Spalding 'Radio Music Society' 2012 Tour Dates:
April 18 – Buffalo, NY (Center for the Arts)
April 19 – Cleveland, OH (Metro Campus Auditorium)
April 21 – New York, NY (Webster Hall)
April 22 – Boston, MA (Orpheum Theatre)
April 24 – Seattle, WA (Paramount Theatre)
April 25 – Portland, OR (Crystal Ballroom)
April 27 – Hollywood, CA (The Music Box)
April 28 – Phoenix, AZ (JW Desert Ridge Jazz Festival)
May 1 – Dallas, TX (House of Blues)
May 2 – Houston, TX (House of Blues)
May 3 – New Orleans, LA (New Orleans Jazz & Heritage Festival)
May 5 – Austin, TX (Paramount Theatre)
May 23 – Paris, France (La Cigale)
May 28 – London, UK (KoKo)
June 27 – Ottawa, ON (Ottawa Jazz Festival)
June 29 – Montreal, QC (Metropolis Theatre)
June 30 – Saratoga Springs, NY (Saratoga Performing Arts Center)
** More dates to be added in in the near future.