Chick Corea, Stanley Clark, and Lenny White come out with their two disc album "Forever."  The first disc, a live recording on all acoustic instruments and just the trio.  The second disc, a studio album with electric instruments and featuring Jean-luc Ponty, Chaka Khan, and Bill Connors. The first disc felt like a snap shot of Chick Corea's entire career with the notable added influence that Return to Forever had in his career; particularly in the traditional trio tunes like "On Green Dolphin Street", "Waltz for Debbie", and "Bud Powell"; alongside Corea's own "Windows." The groups familiarity guided them through passionate versions of these songs while elongated solos gave the musicians a chance let loose in front of the live audience. Special mention must go out to the track "Senor Mouse", which quite simply rocked. The trio of acoustic instruments did not hold the group back as listening to that song gave one the feeling like it was 1976 again.
The second disc was recorded in studio and features Corea on electric piano alongside a number of special guests. Jean-luc Ponty, Frank Zappa's long time violinist, joins the trio on "Armando's Rhumba." Ponty's playing is nothing short of virtuoso; fast paced and communicative it makes a pleasant addition to the power house Forever trio. "After the Cosmic Rain" features guitarist Bill Connors, a former Return to Forever member, who plays like he has never missed a beat in his life alongside Corea, Clarke, and White. The former band mates played with high energy and replicated the same vibe I heard when I first heard my dad's "Best of Return to Forever CD." On the tracks "High Wire – The Aerialist" and "I Love you Porgy" Chaka Khan provides vocals. Although her singing is nice, I couldn't help but find it distracting me from vibe that was created earlier in the album as there were no vocals prior.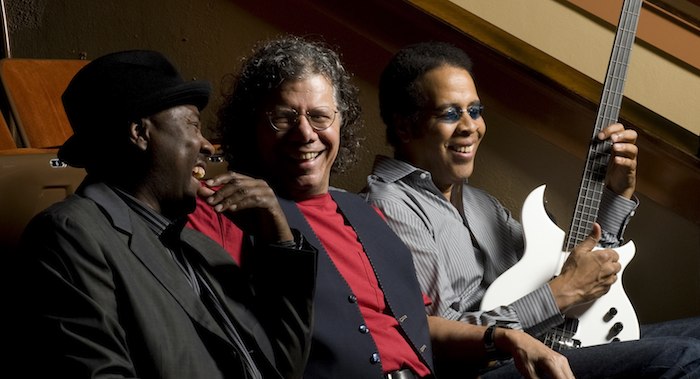 This two disc album hosts a wide variety of genres, styles, and instrumentation; a true fusion of styles that holds fast to the influence Return to Forever had on the musicians respective careers. Whether covering Bill Evans or playing an old Return to Forever song the trio always sound not just like former band members but also long time friends. This a very good album with world class artists playing at a very highest level.