Bassist Robert Hurst's sixth album, Bob: A Palindrome is proof that good music never gets old. The album, released March 12, was originally recorded in 2001; but a number of events, including his recording and touring schedule, pushed the album back longer than planned. Hurst, who hails from Detroit, is one of the most in-demand bassists in the country, and for good reason.
His virtuoso skills on the bass is unparalleled and he continues to elevate his craft as a musician and composer. He has toured with a who's who in Jazz, including Diana Krall, Chris Botti, Sir Paul McCartney, and Wynton Marsalis.  Hurst has also released a number of exceptional records within the last 10 years including Unrehurst, Volume 1 & 2 as well as his 2010 record Bob Ya Head, which is an invigorating mixture of colorful, Afro-centric musical pieces that showcase his eclectic musicianship.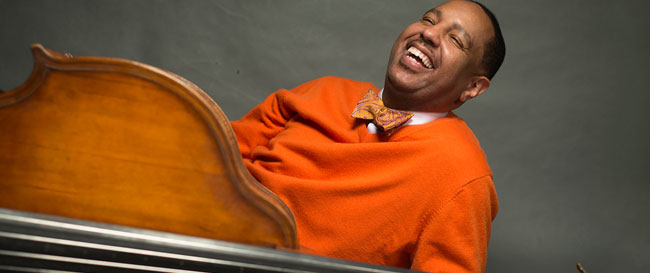 He continues his creative streak on Bob: A Palindrome, in which he pays tribute to a number of icons and influences in his life. He is joined by a stellar list of jazz all stars including saxophonist Branford Marsalis, drummer Jeff 'Tain" Watts, percussionist Adam Rudolph, pianist Robert Glasper, clarinetist Bennie Maupin, and trumpeter Marcus Belgrave. The band gels incredibly well together and are totally in sync, which may be due to the deep musical history that he shares with his band mates. Belgrave, for instance, served as his mentor and also hired Hurst to play in his band when he was just 15. On the album, Hurst honors another mentor of his, drummer Lawrence Williams with the light, upbeat waltz "3 for Lawrence."
The boisterous "Big Queen" is a dedication to his wife and features a fierce solo by Marsalis while "Little Queen,"  a song written for his daughter, features a more subtle, light-tempered melody.
Midway through the album, Hurst takes a theme-centered approach on the mini suite  "Middle Passage," which meditates on the origins of African American history and was inspired by Charles Johnson's novel of the same name. Hurst gives a chilling opening solo on Part 3 of the suite and a number of energetic, improvisational solos by Watts and Marsalis close out the finale. Another dedication is the elegant, mid-tempo homage "Tigers on Venus," a tribute to the historic victories of athletes Tiger Woods and Venus Williams.
Enlightening, technically innovative, and soulful is how I would describe Bob: A Palindrome. Hurst gives listeners a deeper look into his personal life through his music and continues to elevate the standard of creative expression in jazz.