Robert Glasper is one of those rare musicians with the uncanny ability to see beyond what has been done and get straight to the heart of what is possible. Once described as "one of the most promising Jazz pianists for a generation", Glasper enters a class of his own in 'Black Radio'.
In what Glasper himself described as "a true crossover record" we hear an amalgam of the Jazz, Gospel, Soul, and Hip Hop traditions Glasper was raised in. With his Experiment band Casey Benjamin (Sax), Derrick Hodge (Bass), and Chris Dave (Drums), Glasper's 'Black Radio' represents a clear progression from his fragmented 2009 offering 'Double Booked', which saw half an album dedicated to Jazz and half to Hip Hop. These half-hearted attempts to incorporate Hip Hop into his music appear to be a thing of the past as he embraces all of his influences for his third Blue Note offering, which is sure to serve as an example of how Jazz/Hip Hop crossover should be done.
01. Lift Off/Mic Check (Ft. Shafiq Husayn)
The album opens with the soft gospel infused piano style Glasper is best known for. Hip Hop pioneer Shafiq Husayn's influence is clear in the beats and samples used in the track – His voice almost soothes you into a sense of serenity before the the track slowly gives way to an accumulated jumble of mic checks which fade away before the soulful 'Afro Blue'.
Key Lyric: "You'll need only two things to direct your course – Your Ears, and your Soul"
02 Afro Blue (Ft. Erykah Badu)
A heavy Neo-Soul bass vibe from Derrick Hodge lets you know Erykah's in the house taking on this Jazz standard made famous by John Coltrane. You'd be forgiven for thinking ?uestlove was on this track as Chris Dave perfectly adapts his usual drumming style for the song. Erykah's vocals almost float on top of the tune with Glasper's piano offering fills at the perfect moments throughout the track.
Key Lyric: "Shades of delight, Cocoa hue, Rich as the night, Afro blue"
03. Cherish The Day (Ft. Lalah Hathaway)
The beautiful Lalah Hathaway takes on this Sade classic. Bouncy bass, driving drums, rich piano, and powerful vocals throughout. Benjamin proves he's not afraid of an effects pedal with a fantastic effect-filled mid-song sax solo. Track closes with a surreal fade to the lyrics "Cherish the day, I wont go astray, I won't be afraid, you won't catch me running"
Key Lyric: "If you were mine, I wouldn't want to go to heaven"
04. Always Shine (Ft. Lupe Fiasco & Bilal)
Glasper kicks the track off with a gospel infused piano intro that rises to match Bilal's powerful vocals and Dave's driving drums in between Lupe's verses, which prove to be lyrically as powerful as ever. The interplay of Lupe's verses and the chorus almost form a call and response as they fade into each other.
Key Lyric: "In the event of my demise give everything I prize to the poor, and to the oppressors, I leave a war."
05. Gonna Be Alright (F.T.B.) (Ft. Ledisi)
Glasper moves over to the Fender Rhodes, providing the perfect soft counterpoint to Ledisi's powerful, hard-driving vocals. The girl has pipes! The track comes together perfectly, forming a modern, hard-driving Neo-Soul track. If you like Jill Scott, you'll love this. The track fades away and leaves a discussion about the failings of pop music and prejudice in Jazz, ending with the chilling words "We gotta do something", explaining the motivation of the album.
Key Lyrics: "Just bring me the sunshine with your smile, I'll be OK"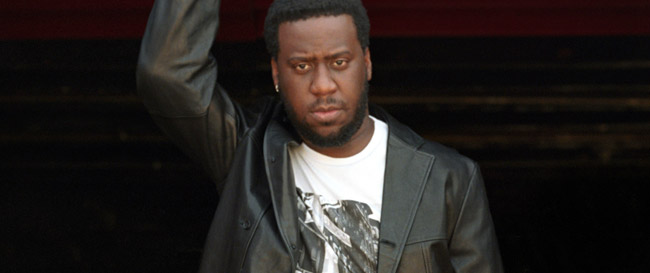 06. Move Love (featuring KING)

Opens on the Fender Rhodes again. KING members Amber Strother, and Anita Bias create a gentle vocal harmony that echos throughout the track, creating a surreal vibe that draws you in almost like a siren's song. As the vocals fade, we're left thinking about the message of the track while Glasper moves over to the piano once again to close with one of the freest solos on the album.
Key Lyrics: "Stop, turn, look, and see… Move, love, across seas"
07. Ah Yeah (Ft. Musiq Soulchild & Chrisette Michele)
Steeped in soul traditions, and dripping with Musiq Soulchild's R&B influence this duet brings the romance to Black Radio. Interestingly enough, Chrisette Michele was only on the track because her flight got cancelled and Glasper convinced her to spend the extra time in the studio. This duet comes together perfectly amidst the Glasper's inventive piano fills, creating a well rounded track drawing on a range of influences from Gospel to R&B.
Key Lyrics: "I think beauty's overrated, 'cause it's something anyone can be. Attraction now that's something different, and thankfully you're both to me"
08. Consequence Of Jealousy (Ft. Meshell Ndegeocello)
Meshell's vocals perfectly compliment the balladic core of the track. Samples and vocoders tastefully fill empty space in the track helping it keep pace with the rest of the album.
09. Why Do We Try (Ft. Stokley Williams)
Mint Condition singer and percussionist Stokley Williams' powerful vocals top off driving drums and free piano verses, falling into scats as the musicians vibe off of each other later in the track. Freest track on the album, demonstrating the strong connection these artists had in the studio.
10. Black Radio (Ft. Mos Def)
Title track of the album, named after the Black Box (/Black Radio) – The only thing left intact after a plane crashes. It also just so happens that all of the album's collaborators are Black (though Glasper assures us this isn't intentional!). Starts strong with Mos on a lyrically powerful 16-bar verse that falls into free, energy-filled singing over Glasper's inventive fills and Dave's driving drum rhythms.
Key Lyrics: "Built to last we made this craft, from Black Radio"
11. Letter to Hermoine (Ft. Bilal)
A highly original take on the David Bowie classic, pulling the story of unrequited love out of folk-rock and into Soul, with Bilal's dynamic vocals injecting emotion straight into the heart of the song. Beginning almost as sparse as the original, the tempo jumps after an emotive piano solo from Glasper, with Flutes hinting at afro-cuban influences late in the track.
Key Lyrics: "I'm not quite sure what we're supposed to do, So I've been writing just for you"
12. Smells Like Teen Spirit
The only track without a collaborator begins with the words "How should we remember Kurt… By playing his music". Casey Benjamin leads the track with his vocoder, giving the track a soft, eery feel that is compounded by the soft piano and brushed drums that all serve to bring the song's lyrics to the foreground. Kurt Cobain explained that the song was about his friends, saying: "We still feel as if we're teenagers because we don't follow the guidelines of what's expected of us".
In many ways, that is exactly what the Robert Glasper Experiment is doing with this album. They are individuals pigeon-holed as 'Jazz Musicians' that have now proven their reach beyond that or any other Genre. Tasteful isn't a word that can be used to describe many cross-over albums, but it is perfect in this case. Concessions are made in all the right places to ensure that perceptions and expectations are thrown out of the window in favor of the only thing that matters – The quality of The Music.

The Robert Glasper Experiment's 'Black Radio' will be released on February 28, 2012.
Watch our interview with Robert Glasper Below: