"The Kind of Musician That Jazz Needs More Of"
What would cause the President of Blue Note Records, Bruce Lundvall, to utter these words? Ambrose Akinmusire's newest album and progressive interpretation of Jazz was more than enough.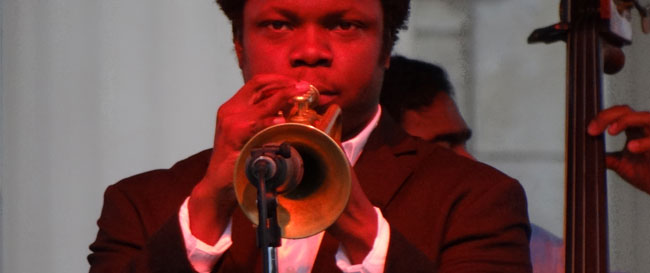 The album, 'When the Heart Emerges Glistening', shows the emotional strength and musical ability of Akinmusire.  Ambrose has also shown his strength to be strongly rooted in what makes jazz so intriguing and deserving of attention.
The album begins with with the song "Confessions to my unborn daughter," which sets the tone for this contemplative album, and leaves us wondering what any of us say in the same situation?  Akinmusire uses instrumentation to create layers of sound ebbing and flowing like emotions from joy to confusion, and leads us somewhere new all together.
"Tear stained suicide manifesto" is only another fantastic example of how deep this album will go. Also, with this album truly being a group effort, Walter Smith III, Gerald Clayton, Harish Gaghavan and Justin Brown join Akinmusire to serve as specific storytellers in the ten original compositions and three interpretations of the album, and allow for their music to be bent and shaped by the listener's own mind.
In 'When the Heart Emerges Glistening', each song finds its own beautiful melody, which like life tends to become both complicated and ultimately tempered by emotion.  The album seems to take the listener through Ambrose Akinmusire's deepest thoughts, hopes and dreams, begging in the album's namesake, When (does) the heart emerge glistening?

Key Personnel: Ambrose Akinmusire (Trumpet), Walter Smith III (Tenor Saxophone), Gerald Clayton (Piano), Jason Moran (Fender Rhodes), Harish Raghavan (Bass), Justin Brown (Drums).