Looking at the list of performers that have graced the Iowa City Jazz Festival's main stage over the years, it's easy to forget Iowa City is home to a population of just 70,000. Paquito D'Rivera, Bill Frisell, Paul Motian, Pharoah Sanders, and Dr. Lonnie Smith are just a few of the jazz luminaries to have played at the festival, and this year they'll be adding a new set of names to the list.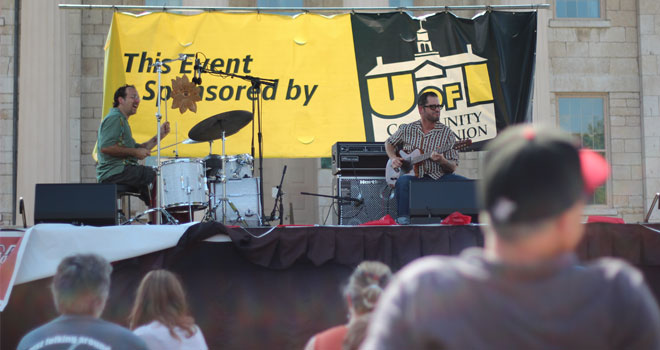 Tom Harrell's Colors of a Dream are set to headline the festival this year. Featuring a true genius of modern trumpet backed by an all-star band, if you like horns this will be a performance you won't want to miss. With Jaleel Shaw on alto, Wayne Escoffery on tenor, Esperanza Spalding and Ugonna Okegwo on bass, Jonathan Blake on drums, and, of course, Tom Harrell on trumpet/flugelhorn this sextet is sure to offer one of the most iconic headlining performances in the festival's 24-year history.
Joe Lovano also returns to Iowa City this year for his second performance at the festival. This time, he brings his Us Five group James Weidman (piano), Peter Slavov (bass), Otis Brown (drums), and Francisco Mela (drums) to showcase music from his latest album Cross Culture and close out the second day of the festival.
Check out the full lineup below:
July 3:
5 pm: United Jazz Ensemble (High School)
7 pm: Jared Gold Trio
9 pm: The Pedrito Martinez Group
July 4:
3 pm: North Corridor All-Star Jazz Band (High School)
5 pm: Nordic Connect
7 pm: Etienne Charles
9 pm: Joe Lovano's Us Five
July 5:
2 pm: The Commons Collective
4 pm: Melissa Aldana & The Crash Trio
6 pm: Anat Cohen Quartet
8 pm: Tom Harrell Colors of a Dream
This is an incredible lineup, and somehow they're able to bring this caliber of talent to Iowa City every year at no charge to the 30,000+ people that come out to see the rising stars of jazz rub shoulders with true living legends. Just bring a lawn chair and some drinks to Iowa City for July 4 weekend and you're set for a solid weekend of jazz.
In between the main stage acts listed above, three side stages play host to a variety of high school, college, and local bands while a well-stocked Culinary Row (an entire road filled with food vendors) and the Beverage Garden provide you with all the food and drinks you need to keep up with a full day of music.
Iowa City-based jazz radio station KCCK will be streaming music by artists performing at the festival 24/7 on their new Iowa City Jazz Festival Channel. The station recently commissioned a special statue to commemorate last year's Iowa City Jazz Festival, featuring depictions of last year's performers Christian Scott, Philip Dizack, Pharoah Sanders, and Kris Funn.
This year, the Iowa City Jazz Festival runs from July 3-5. For up-to-date information on everyone performing at the festival, head over to the Iowa City Jazz Festival website.
Watch Dr. Lonnie Smith perform "Backtrack" at last year's Iowa City Jazz Festival below: