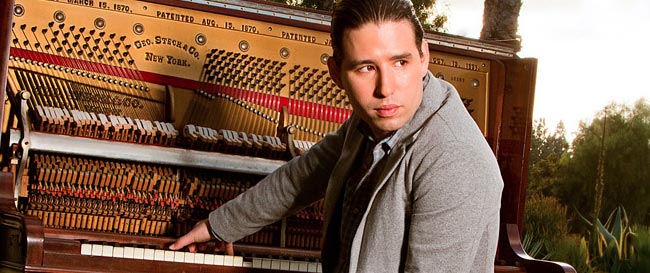 Cuban pianist and composer Alfredo Rodríguez has announced the release date of his debut album.
Titled 'Sounds Of Space', the album is co-produced by 27-time Grammy Award winner and music legend Quincy Jones.
Featuring 11 tracks composed by 26-year-old Rodríguez, the album offers nods to Cuban masters such as Ernesto Lecuona alongside piano legends Bud Powell and Thelonious Monk, who are amongst Rodríguez' biggest influences.
"In this record I wanted to introduce myself: here are the people, the places and the sounds that have surrounded me, and made me who I am," Rodríguez said of his inspiration for recording the album.
Born in Havana, Cuba, the pianist began a formal education in classical piano at the age of seven, learning at one of Cuba's most renowned music conservatories. He was introduced to Jazz through his father, of the same name, which led to his passionate exploration of the genre for years to come.
It was in 2006 that Rodríguez was invited to perform at the Montreux Jazz Festival, where he met his future mentor Quincy Jones. He has since gone on to play many other renowned Jazz Festivals, including the Playboy Jazz Festival opening for Wayne Shorter, Monterey Jazz Festival, Newport Jazz Festival, and the North Sea Jazz Festival.
Of Rodríguez, Quincy Jones said: "He is very special, and I do not say that easily because I have been surrounded by the best musicians in the world my entire life, and he is one of the best."
Alfredo Rodriguez's 'Sounds Of Space' is due for release on March 27, 2012 on Mack Avenue Records.
Watch Alfredo Rodríguez perform 'Crossing The Border' Below: