Robin Thicke and Pharrell Williams have lost the first round of their legal battle against Marvin Gaye's family over allegations of plagiarism in their 2013 hit single Blurred Lines.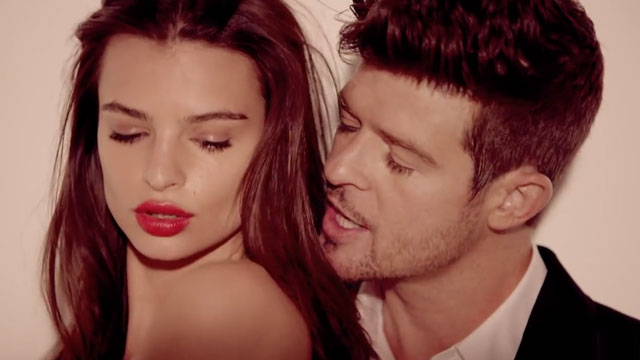 Ironically, the legal dispute was actually started by Thicke and Williams. They filed a preëmptive lawsuit against Gaye's family in an attempt to stop any allegations of copyright infringement from making it court. A Federal judge has now struck down that lawsuit after declaring the similarities between Blurred Lines and Marvin Gaye's 1977 single Got To Give It Up are enough to call for a trial.
Judge John Kronstadt acknowledged there appears to be a genuine dispute about how similar the "signature phrases, hooks, bass lines, keyboard chords, harmonic structures and vocal melodies" are in both songs. "The Defendants have made a sufficient showing that elements of Blurred Lines may be substantially similar to protected, original elements of Got to Give It Up," the judge wrote.
However, Thicke has already admitted Blurred Lines was heavily influenced by Got To Give It Up.
"Pharrell and I were in the studio and I told him that one of my favorite songs of all time was Marvin Gaye's Got to Give It Up. I was like, 'Damn, we should make something like that, something with that groove,'" he told GQ Magazine last year. Thicke has since disavowed his comments in the interview, saying: "I was high and drunk every time I did an interview last year," he claimed in court documents related to the lawsuit. "None of it was my idea… I'd say 75% [of the song] was already done when I walked in."
The key point to remember is that not all parts of a song can be copyrighted. Chord progressions are one common example of a part of a song that cannot be copyrighted, as the video below demonstrates:
Everyone involved in the creation of Blurred Lines has admitted they were already familiar with Gaye's song before they wrote their song. So, when the case goes to trial, the decision will come down to whether young songwriters were simply influenced by a hit single from the '70s, or whether Thicke lifted 'protectable creative musical expressions' from Gaye's song and placed them in his own.
The jury's decision will be based on how the compositions look in sheet music, and not how similar to two sounds sound to listeners.
Gaye's family have since alleged a second song, Thicke's Love After War, also copied Gaye's 1976 song After The Dance. A second trial comparing these songs will be expected shortly after the conclusion of the first.
The trial is scheduled to begin on February 10, 2015 in Los Angeles.
This isn't the first controversy to hit Blurred Lines. The song was released to a firestorm of criticism after commentators claimed the lyrics endorse rape and trivialize the issue of sexual consent. The video also came under fire for featuring naked women parading around Robin Thicke.
>> See Also: Jazz Drummer Willie Jones III Sues Rapper Kendrick Lamar Over Stolen Sample.