Steve Coleman has been awarded a MacArthur 'Genius' Grant.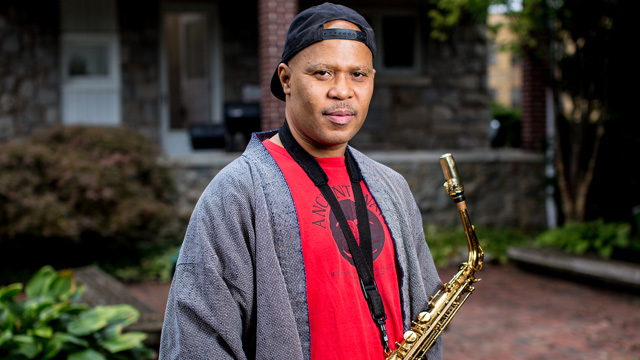 The highly influential alto saxophonist and composer is one of 21 people chosen to receive a grant of $625,000 from the John D. and Catherine T. MacArthur Foundation, which aims to reward innovators and thought leaders in various fields of creative, academic, and social endeavors. The grant is awarded 'no strings attached,' without any obligation as to what it should be used for.
The MacArthur Foundation recognized Coleman as an artist whose "technical virtuosity and engagement with musical traditions and styles from around the world are expanding the expressive and formal possibilities of spontaneous composition."
57-year-old Coleman initially responded to his honor with disbelief: "I don't get grants and awards so when they called I said, 'Is this really y'all?'
"You don't expect things like that to happen."
In many ways, this honor was long overdue. Previous jazz-influenced MacArthur Fellows Jason Moran and Vijay Iyer both cited Coleman and his work as having a major influence on their lives and their art.
Speaking about how he got started with jazz, Chicago-born Coleman said: "My father was a Charlie Parker fanatic, and he slipped some Charlie Parker into my record collection. I started with that. It didn't make any sense to me in the beginning, but little by little something about it just got inside me and I went from there. Then I started to learn about the music, and I started hanging around older musicians who were from that generation."
Among those older musicians stood tenor saxophonist Von Freeman, who passed away two years ago at the age of 88. Freeman introduced Coleman to the jazz life; setting him on a course that would see him influence countless musicians and receive one of the highest artistic honors available.
"Support for creativity in this country is at an all-time low, so organizations like MacArthur are great for that," Coleman added.
This grant will see Coleman receive a total of $625,000, which will be paid in installments over the next five years.
So, what will he do with the money?
"I'm not into enriching myself, buying a new car," Coleman said. "It's all about the scene and trying to move the music forward."
Watch Coleman's MacArthur Foundation introduction below: