B.B. King, the undisputed 'King of Blues,' has passed away at the age of 89.
The legendary bluesman's lawyer Brent Bryson released details of his death to The A.P., confirming earlier reports that King died peacefully in his sleep at his Las Vegas home on Thursday evening.
While King looked to be in good health for most of his life he, suffered from diabetes for decades, which led to countless health scares over the past few years. He collapsed during a concert in Chicago last October as a result of diabetes-related dehydration. After a recent hospitalization, he entered hospice care at his Las Vegas just two weeks before this tragic news.
King recorded more than 50 albums in a career spanning almost 70 years. After 15 Grammys, tens of millions of albums sold, and more than 15,000 live performances under his belt, King was the preeminent blues artist of his generation, defining what will forever be the 'gold standard' of American Blues that went on to influence the likes of Jimi Hendrix, Eric Clapton, and Duane Allman.
B.B. King was born Riley B. King on September 16, 1925 to tenant plantation farmers Albert and Nora King in the humble Mississippi settlement of Berclair. His mother died when he was just nine years old and in the midst of The Great Depression his father died when King was just 14 years old, leaving him alone to fend for himself by sharecropping on "an acre of cotton, living on a borrowed allowance of $2.50 a month," according to blues scholar Dick Waterman.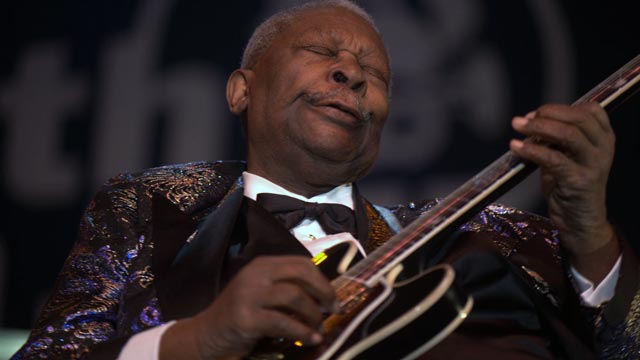 His parents raised him in the rich gospel tradition of the American south, so he was no stranger to music. He had already started self-learning on an inherited guitar when he first heard 'King Biscuit Time' on the radio during a lunch break. This was the first radio show to showcase Mississippi Delta Blues artists, and after hearing blues pioneer Sonny Boy Williamson II on the radio, he immediately knew that's what he wanted to do.
After a brief stint in the U.S. Army, King made his way to Memphis, where he moved in with his cousin, up and coming guitarist Bukka White, to find more meaningful work than sharecropping. He eventually sought out Williamson, who was hosting a daily radio show when King played a song live on air for Williamson, who incidentally had two performances booked for that night. He gave the lower-paying gig to King, who proved to be a hit with the audience after emulating his cousin's slide guitar technique – Which would later form the basis of his 'trademark' vibrato.
He went on to become a regional star, signing to a small record label and taking on a radio show as the "Beale Street 'Blues Boy,'" which was later abbreviated to the familiar B.B.
In 1951, he had his first hit: An R&B tune titled "Three O'Clock Blues" that spent 15-weeks at the top of the R&B charts. From there his popularity grew steadily until the late 1960s, when young, white rock fans of the era started to catch on to his unique sound.
This was around the same time Blues started to fall out of favor with young black audiences. King once recalled being booed off the stage by teenagers who preferred the softer sound of Sam Cooke and his contemporaries. "They didn't know about the blues," he said in an interview with the New York Times. "They had been taught that the blues was the bottom of the totem pole, done by slaves, and they didn't want to think along those lines."
However, older fans of all races remained loyal to the blues legend as he released his most popular recording, "The Thrill Is Gone." Although originally written in 1951 by Roy Hawkins and Rick Darnell, King made it his own, lamenting the end of his second marriage.
"The Thrill Is Gone" marked a resurgence in King's popularity, opening up new opportunities to play to televised audiences on the Ed Sullivan Show and The Tonight Show, as well as countless rock and folk festivals across the world.
Although he never had another hit like "The Thrill Is Gone," the success of the song launched one of the most prolific touring careers of all time. For more than four decades, he would regularly play almost 300 shows a year. He played the world with a grueling schedule that would have today's pop stars begging for mercy. Despite ongoing health issues, he continued to play up to 300 shows a year until around his 81st birthday, when he cut it back to 'just' 100 shows a year.
King married twice, fathering a total of 15 children. He is survived by 11 of them; and, of course, Lucille.