"He's a jazz legend, baby," Quincy Jones said; honoring his long-time friend and mentor Clark Terry.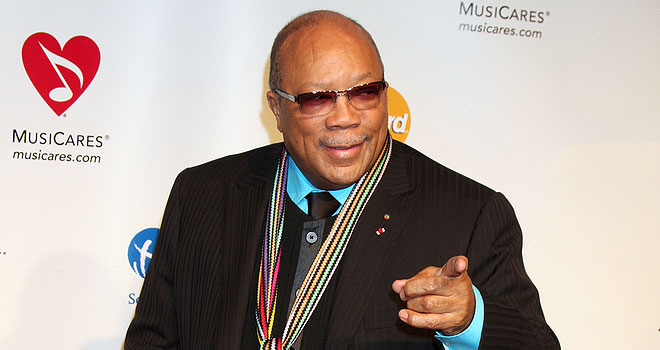 81-year-old Jones set out to honor and memorialize 93-year-old Terry's continuing legacy by producing a documentary about his life and showcasing an unlikely friendship the jazz elder-statesman struck up with an incredibly talented 23-year-old blind piano player named Justin Kauflin.
Terry's legacy, and the mutual artistic nourishment Terry and Kauflin share, goes far beyond anything that can be condensed into writing so a visual medium was the natural choice for such a project.
"We have 450 hours on him," Jones told Page Six. "It's a five-year trip done with jazz great Al Hicks, who's now a first-time filmmaker exploring trumpeter Terry's life." With the help of Harvey Weinstein five years worth of footage was cut down into an 80-minute documentary-style feature called Keep On Keepin' On, which will receive a limited theatrical release on October 3, alongside special screenings at select venues throughout the next year.
After working with the likes of Count Basie and Duke Ellington, Terry mentored some of of the biggest names in jazz – Including Miles Davis and Quincy Jones. "I was his first student at 13," Jones recalled. "He became my mentor."
"We've been taking care of Clark Terry 15 years. We take care of them all. He's now a professor in Arkansas. After retiring he got sick, and it was tough."
Jones has long been critical of the impact modern pop music has had on the world, and on the value of artistic integrity. "What we need is a minister of culture to preserve jazz and blues. We're the antithesis of Beethoven. Our music came from animals. From African life sources.
"All these kids today do it for money. Those bitches and ho's are making millions. It's me who helped bring them, my new brothers, into the business. God walks out of the room if you're doing it for money."
Jones appears to be hoping to reset the focus with this new documentary, showcasing the best of what can happen when new talent is nurtured effectively. Young piano player Kauflin has high hopes for the future, as does Jones about his documentary.
"I won't say it could get an Oscar, I don't want to jinx it, but it's already gotten several awards at Tribeca and Seattle."
Watch the trailer for Keep On Keepin' On below: