Gregory Porter is no doubt a minister of good, soul-stomping jazz influenced music. He once again proved his amazing ability to transport a crowd into a baptismal state of musical ecstasy during his October 15 appearance at the Michigan Theater in Ann Arbor.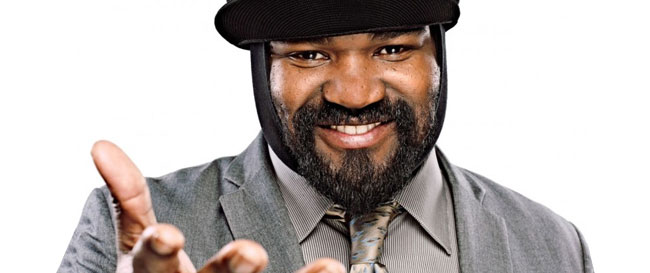 Porter's performance was part of the University Musical Society's annual concert season, which includes a list of world-class artists from the classical and jazz genres. Porter was a perfect choice for the UMS concert season, especially given his powerful vocal skills, his incredible interpretation of blues and jazz, and the exceptional year he's had. His most recent album Liquid Spirit, released on Blue Note Records, shot up the Billboard charts and earned him a Grammy for "Best Vocal Jazz Album." He was also hailed the "next great male jazz singer" by NPR and his musical popularity just keeps on rising with both young and older generations.
That much was apparent from the diverse crowd, which included everyone from college students to senior citizens, all of whom couldn't sit still as Porter and his band belted out feel-good tunes from his three albums, Water, Be Good and Liquid Spirit. He was backed by pianist Chip Crawford, drummer Emanuel Harrold, bassist Jahmal Nichols and saxophonist Yosuke Sato.
He started the night off with a slightly improvised version of "Painted on Canvas" one of his most popular tunes thus far,which included an astonishing solo from Sato. Porter continued by performing a few tunes from Be Good, which included a fiery rendition of the soulful jazz song "On My Way to Harlem" where Porter reminisces about jazz' heyday in Harlem.
Porter took everyone to church during his performance of the gospel-tinged blues "Liquid Spirit;" surely one of the most eclectic tracks from his third album. The audience provided a hand-clapping rhythmic pattern as Porter's baritone vocals gave a compelling cry for music to return to its blues roots so souls could be fed musically.
Crawford went into complete overdrive during his solo creating massive arpeggios to the point where the other band mates could barely keep up with his rapid pace.
There was an equally spirit filled atmosphere when he sung the Nat Adderley tune "Work Song." Porter's full baritone vocals seemed to echo throughout the room as he went into full chant mode and channeled the sorrowful calls of chain gang workers.
If there's one thing to note about a Porter performance, it's that he can get a crowd all worked up and in full speed, then turn around and have them in complete silence as he serenades the crowd with his endearing ballads.
He winded down a bit while performing the heartfelt track "Hey Laura," and followed that up with the beautiful love song of "Wolfcry" with Crawford on piano.
With Porter being a bona-fide soul man and lover of classic records, he had to do a tribute to the Motor City, which is where Motown Records flourished in the 1960s. His record "1960s What?" discusses the racially charged 1967 riots that took place in Detroit and how the city was literally a battle zone and close being destroyed. What better way to end the metro Detroit show than with this record and that's just what Porter did. He lit the stage a fire with compelling shouts reminiscent of the freedom songs sung during the Civil Rights era. He encouraged the audience to join in a call and response portion of the song.
By the end of the night, Porter had taken everyone on a satisfying musical journey through multiple decades and back to the 21st century all within an hour and a half. He more than upheld his title as one of the best male jazz vocalists in the country.