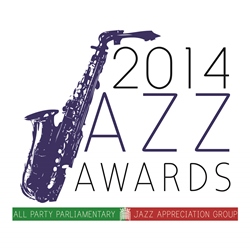 The nominees for the 2014 Parliamentary Jazz Awards have been announced.
The Sons of Kemet, Jamie Cullum, Arun Ghosh, and Soweto Kinch are just a few of the artists that stand to win at the awards, which take place at the House of Commons' Terrace Pavilion on Tuesday, May 13.
This year also marks significant changes for the awards, which sees the award categories expanded in some areas and consolidated in others. The 'Musician of the Year' category is being split to become 'Instrumentalist of the Year' and 'Vocalist of the Year' to better recognize styles of talent. They're also introducing a 'Jazz Newcomer of the Year' award, to recognize fresh talent from the UK scene, and a 'Jazz Venue of the Year' award to recognize outstanding jazz clubs, venues, festivals and promoters.
However, they have also made a major cut to their media awards. The three media award categories from last year; 'Jazz Journalist of the Year,' 'Jazz Broadcaster of the Year,' and 'Jazz Publication of the Year' have been consolidated into one category called the Jazz Media Award, which comprises broadcasters, journalists, magazines, blogs, listings and books into one category.
The event, which is hosted by the All Party Parliamentary Jazz Appreciation Group (or, APPJAG) and sponsored by UK Performing Rights organization PPL, is now in its 10th year and will be hosted by veteran newsreader Moira Stuart. James Pearson and The Ronnie Scott's All Stars are also due to perform at the ceremony.
"These shortlists demonstrate the wealth of talent and commitment that exists in the British jazz scene," Michael Connarty MP, Co-Chair of APPJAG said in announcing the nominees.
The nominees are chosen by public vote on the UK Jazz Services website, and the winners will be selected by APPJAG's selection panel
The 2014 Parliamentary Jazz Awards Nominees:
Jazz Vocalist of the Year
Christine Tobin
Lauren Kinsella
Norma Winstone MBE
Zara McFarlane
Jazz Instrumentalist of the Year
Arun Ghosh
Laura Jurd
Mike Walker
Jazz Album of the Year
Mark Lockheart: 'Ellington In Anticipation'
Soweto Kinch: 'The Legend Of Mike Smith'
Troykestra: 'Live At Cheltenham 13 Jazz Festival'
Jazz Ensemble of the Year
Beats & Pieces Big Band
Kairos 4tet
Phronesis
Sons of Kemet
Jazz Newcomer of the Year
Lauren Kinsella (Thought-Fox)
Phil Meadows
Reuben Fowler Big Band
Jazz Venue of the Year
London Jazz Festival
Love Supreme Jazz Festival
Manchester Jazz Festival
Jazz Media Award
Dick Pearce – Dizzy Gillespie Was At My Wedding: Jubilance and Woe
Jamie Cullum
LondonJazzNews
Jazz Education Award
Issie Barratt (National Youth Jazz Collective)
John Ellis (Doncaster Youth Jazz Association)
Leeds College of Music
Services to Jazz Award
David Redfern
Evan Parker
John Taylor