Apple is planning to make its recently acquired Beats Music streaming service available on every iOS device "as early as March" of next year.
The company will automatically install the Beats Music app in its next major update to the iOS operating system that powers the iPhone and iPad, according to the Financial Times (paywall).
Apple acquired Beats, which is best known for its distinctively styled Beats by Dre headphones, for $3bn in May of this year. The landmark deal closed just months after Beats, which was co-founded by rapper/producer Dr. Dre and Interscope Records co-founder Jimmy Iovine, launched its own much-hyped streaming music service in January. However, the company largely failed to live up to that hype, earning just 111,000 paying subscribers as of March 2014 (compared to Spotify's 10 million).
Spotify has already been under fire after pop/country artist Taylor Swift pulled her entire music catalog from Spotify, claiming the service amounted to nothing more than an "experiment" that undermined the value of her work. If Beats Music becomes a default iOS app it will be able to reach hundreds of millions of potential new customers with ease, posing an immediate threat to Spotify's market dominance.
Apple declined to comment on the Financial Times report; however, it will be very interesting to see how this news pans out. It's already been six months since Apple's Beats acquisition and they remain tight-lipped about their plans for the service.
Earlier reports suggested Apple may drop the price of Beats Music from $9.99 per month to $5 per month. However, the Financial Times asserts that the Beats Music brand would be dropped entirely and "re-branded under the iTunes label."
If the report is accurate, it's clear Apple will be playing catch-up as Spotify recently inked a deal that would see its own app pre-installed on all smartphones produced by HTC. However, Apple is in a unique position in the marketplace, and the company has never shied away from innovation or putting its money where its mouth is.
After hearing this news I immediately thought back to an interview The Jazz Line held with Jay Beckenstein, the bandleader of jazz/fusion group Spyro Gyra.
In the interview, Beckenstein suggested that a new and much more radical pricing model may emerge from streaming services – If the powers that be allowed it to happen:
"I think they should be building a tax into the hardware," Beckenstein said.

"That is, if it's inevitable that all music that's produced is going to be available for free. Criminal or non criminal… Then maybe the iPod should be paying a dollar. And the iPhone should be paying a dollar. Every time somebody buys an iPhone they pay a dollar which is essentially for all that free content. And that dollar is somehow distributed to the people that are providing the content."

"With The amount of iPhones and iPads, and computers… A dollar for each would be enough to send the kids to college."
https://www.youtube.com/watch?v=qLu_FOa1S_c
Sounds far-fetched, right? – Perhaps. But it's worth remembering that Apple is the largest company in the world by Market Capitalization. They have twice as much cash on hand as the US Government (kind of…).
Apple does not have to make money from the music it sells. A fact that was driven home two months ago when the company dropped $100 million to give every iTunes user U2's latest album for free. For the most part, iTunes is nothing more than a loss leader for the company. A way to entice sales of its insanely profitable line of phones, tablets, desktops, and laptops.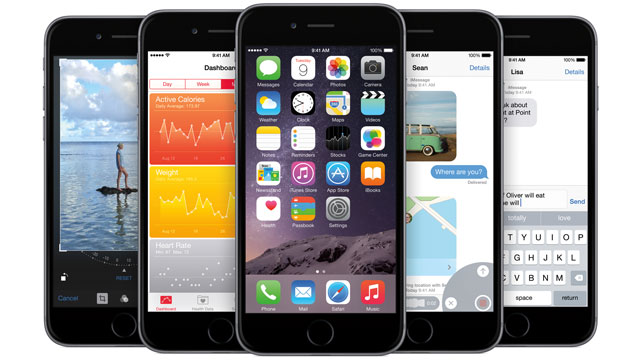 We also know that most iPhone/iPad users aren't price sensitive, considering Apple has always sold some of the most expensive mass-produced phones/tablets on the market. So, while Beckenstein's amount of a dollar, if taken literally, may seem a bit low. If your next purchase of an Apple product were to cost $60 more (the value of a 1 year Beats Music subscription), would you really notice?
According to Recon Analytics, 45% of iPhone users replace their device every year, with an extra 45% replacing within two years (and just 10 percent holding on to their phone until it breaks). If the cost of a streaming service were rolled into the device, or covered by one of the most profitable companies in the world, chances are you probably wouldn't notice any price increase. Even if you do, it's not likely to stop you from buying your preferred device (and upgrading within two years) – Even if you're not doing it for access to the "free" music streaming.
If the cost of a streaming service were built into the cost of the hardware, at Apple's incredible scale (hundreds of millions of devices all around the world), could the streaming model actually start to work for both artists and consumers?