Bob James and David Sanborn will pay tribute to iconic pianist Dave Brubeck and saxophonist Paul Desmond in a new album, due for release May 21.
Titled 'Quartette Humaine,' the album will see the pair team up for their first collaboration since their 1986 Grammy award winning album 'Double Vision.'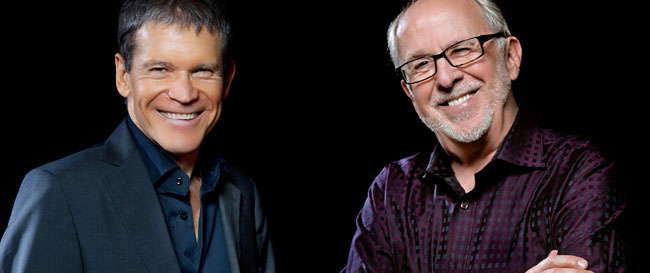 The album will be among the first to be released on the newly re-launched OKeh label, which will serve as Sony Classical's primary Jazz imprint going forward. The album will be all-acoustic; moving away from the Pop/R&B production values James and Sanborn are best known for, and feature James Genus on Bass and Steve Gadd on Drums.
Speaking of the new style, Sanborn explained: "At this stage of my life, I wanted more than anything to play music that's challenging and fun.
"A lot of my records only reflected one side of the many kinds of music I was doing…. I hadn't been expressing as much, paying respects to guys like Hank Crawford and David 'Fathead' Newman, who inspired me to start when I was a teenager in St. Louis."
James added: "We felt it's far more exciting and adventurous to move forward. Times have changed. The music business has changed. We have changed."
Speaking about the genesis of the project, James explained the pair met occasionally in the studio while working on projects for other artists until, "a midnight jam session at the Tokyo Jazz Festival a few years ago. We played just a couple of tunes, but it engendered the feeling that a reunion was way overdue."
Coincidentally, the recording sessions for this album started just a week after Dave Brubeck passed away in December, 2012 so his legacy stood at the front of their minds while recording. "We talked about the interplay of Brubeck's quartet with Paul Desmond," explained Sanborn. Brubeck and Desmond always carried the spirit of live performance into the studio with them, and James/Sanborn are trying to re-create that spirit in their tribute:
"It's so much fun to do it this way," Sanborn reflects. "I used to separate live playing from being in the studio, and got into a mindset of having to labor over a record and make it right. I want the studio to reflect that live experience-the fun of discovery, not knowing what's going to happen until it happens."
'Quartette Humaine' is due for release on May 21, and will feature four original compositions by Bob James, three by David Sanborn, and two covers – "My Old Flame" and "Geste Humain."
Listen to Bob James & David Sanborn's " Since I Fell For You (Ft. Al Jarreau)" below:
Click Over to the next page for see a track listing and for information on Bob James and David Sanborn's upcoming tour: