Has jazz become America's least-popular genre?
According to Nielsen's 2014 Year-End Report, jazz is continuing to fall out of favor with American listeners and has tied with classical music as the least-consumed music in the U.S., after children's music.
Both jazz and classical represent just 1.4% of total U.S. music consumption a piece. However, Classical album sales were higher for 2014, which puts Jazz at the bottom of the barrel.
This continues an alarming trend that has seen more and more listeners move away from jazz every year.
Album sales have long been a key measure of the popularity of individual genres, and year after year jazz album sales continue to fall.
In 2011, a total of 11 million jazz albums (CD, cassette, vinyl, & digital) were sold, according to BusinessWeek. This represents 2.8% of all music sold in that year. However, just a year later, in 2012, that percentage fell to 2.2%. It rose slightly to 2.3% in 2013 before falling once again to just 2% in 2014.
That 2% represents just 5.2 million albums sold by all jazz artists in 2014. In comparison, the best-selling artist of 2014, Taylor Swift, sold 3.7 million copies of her latest album '1989' in the last 2 months of 2014 alone.
Almost 30% of all music consumed in the U.S. was classified as Rock, making it the most popular genre in the U.S. for 2014; followed closely by Hip-Hop/R&B (17.2%), Pop (14.9%), and Country (11.2%).
Some have tried to explain away Jazz's continuing decline in the rankings by citing the fact that popular crossover albums, like Robert Glasper's Black Radio and Black Radio 2, are rarely classified as jazz. But the fact remains that new listeners are not engaging with jazz music as they once did and long-time jazz listeners often exhibit behaviors that result in them ignoring new releases, even by established artists.
Another dangerous trend emerges when you separate the digital album sales numbers: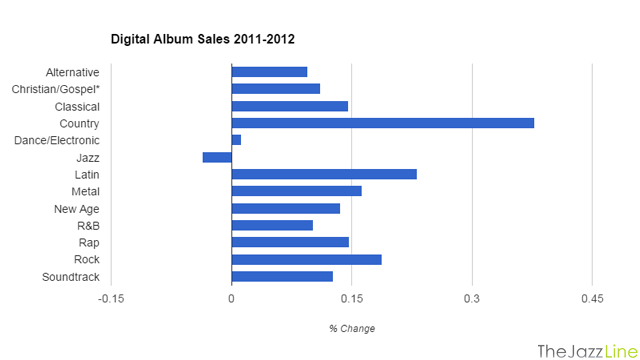 As illustrated above, Jazz was the only genre to have its digital album sales decline, year-on-year, between 2011 and 2012. And more recently, even though the use of on-demand streaming services like Spotify grew by 54.5% between 2013 and 2014; jazz music represented just 0.3% of all music streamed during the same period.
This is indicative of an aging listenership that is slow to adapt to new technologies. As more and more traditional record stores go out of business, it's becoming harder for these veteran stalwarts of the genre to access new releases, while the few digital natives that actively listen to jazz are clearly finding it difficult to carry the numbers.
* A few notes on my methodology: There are an innumerable number of genres in existence; and Nielsen selects a varying number of "top genres" to include in their year-end reports. This year, the company selected a total of eleven genres for analysis on page 2 of their report, which is linked above. When I refer to the popularity of an individual genre, that popularity is relative only to the other "top genres." The "Children" genre is included in those "top genres;" however, it is excluded from this analysis as it is transient and regularly omitted from Nielsen's public reporting. "Consumption" in this article refers only to album/single sales and online streams.