SFJazz, the leading Jazz performing arts organization in the west coast, has broken ground on for the SFJazz Center – A 35,000-square-foot structure located in San Francisco that will become America's only stand-alone performance facility built specifically for Jazz.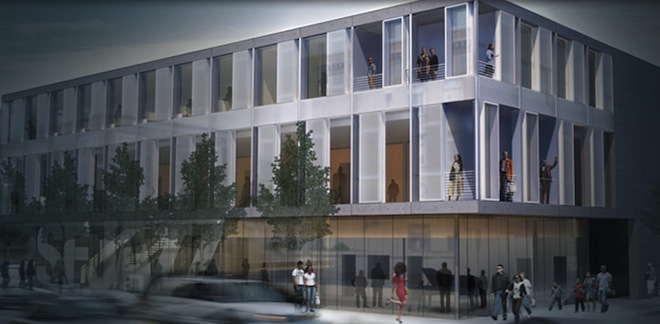 Scheduled to open in October 2012, the ground was broken on the $50 Million center by SFJazz Executive Director Randall Kline, who symbolically took a sledge hammer to the old building during the groundbreaking ceremony.
Having a dedicated building will give SFJazz the flexibility in it's programming that it is has been searching for, while also providing an icon for the cultural significance of the music it represents. Upon the opening of the new venue, SFJazz, which produces the San Francisco Jazz Festival, is due to double the number of concerts it currently produces to over 200 per year; and expand the educational programmes currently offered by the organization. "We're trying to create a place where jazz can do what it's always done – grow and morph and change. The idea of a cultural institution for jazz is relatively new, but Jazz certainly deserves a building like this," comments Kline.
Commenting on the design of the building, which was devised by architect Mark Cavagnero, SFJazz Board member Robert Mailer Anderson said, "It's supposed to be jazz-themed, but I told him to just run with it and do what he wants. As Louis Armstrong said, jazz is life." As a result there is little separation between the inside and the outside of the building through the heavy use of glass, which leaves much of the inside of the center visible from the outside.
The center includes an flexible auditorium with up to 700 seats, an 80-seat ensemble room, extensive rehearsal spaces and learning labs, café's, retail shops and office space; all seeded from an anonymous $20 Million donation from a Bay Area resident. The goal, architect Cavagnero said, was to create a room that has the energy and intimacy of a club with the acoustic quality of a great hall like Carnegie.
Check out a video introducing the center below: