Multi-instrumentalist and jazz pioneer Yusef Lateef has passed away at the age of 93.
The Grammy Award-winner died this morning (Monday, December 23) at his home in Shutesbury, MA. He had been battling prostate cancer and it appears he has sadly succumbed to the disease. The Daily Hampshire Gazette confirms he passed away peacefully with his loved ones around him.
Although Lateef established himself as an educator early in life, he is best known for his contributions to world music and his innovative fusion of American Jazz with traditional African rhythms, Indian raga, and eastern Arabic styles of music. Although you were most likely to see him with a flute or a saxophone, he also played the oboe and a countless number of more exotic instruments, including the Xun (Chinese vessel flute), the bamboo flute, and the Japanese koto.
He has performed with the likes of Dizzy Gillespie, Charles Mingus, Miles Davis, Cannonball Adderley, and Art Farmer; and received many accolades for his music. He was named an NEA Jazz Master in 2010, and his experimental album 'Little Symphony' won a Grammy for 'Best New Age Album' in 1987.
He is survived by his son Yusef Lateef II and wife Ayesha Lateef. He will be sorely missed by his family, friends, and fans alike.
Listen to Yusef Lateef's "Love Theme From Spartacus" below:
***
Dr. Yusef Abdul Lateef (named William Emanuel Huddleston at birth) was born October 9, 1920 in Chattanooga, TN. His family moved regularly before settling in Detroit, MI where the established musical pedigree of the area immediately rubbed off on him as he established friendships with the likes of Milt Jackson, Paul Chambers, Donald Byrd, and many more. He started playing the alto saxophone from a young age before moving to the tenor, and was proficient on the instrument long before he left high school. By the age of 18, he was touring professionally across the U.S. with a range of swing artists like Roy Eldridge and Hartley Toots. That continued until 1949, when he moved to New York to join The Dizzy Gillespie Orchestra.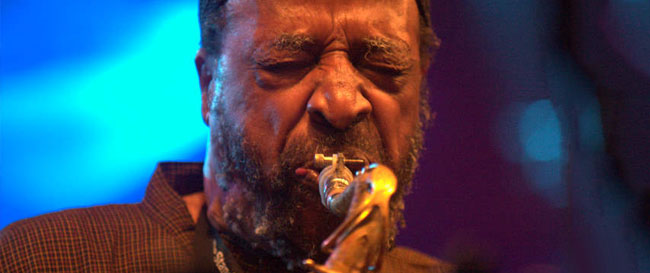 He returned to the D just a year later in 1950, where at the age of 30 he began his commitment to life-long learning by studying composition and flute performance at Wayne State University. It was during his time at Wayne State that he converted to Islam – Specifically the Ahmadiyya movement, which is similar to mainstream Sunni Islam, except for the belief in an additional Messiah – Mirza Ghulam Ahmad. Throughout the '50s he led his own groups, started recording under his own name (he had previously used the stage name 'Bill Evans'), and toured with the likes of Charles Mingus, Cannonball Adderley, and Miles Davis. After taking oboe lessons from Ronald Odemark of the Detroit Symphony Orchestra, a period of musical and academic awakening began in Lateef.
He returned to New York in 1960 where he learned the finer points of the flute from Harold Jones before enrolling in the Manhattan School of Music in 1966, where he received a Bachelor's Degree in Music before going on to receive a Masters in Music Education in 1970. He would eventually stay on as student-teacher at the school's music theory department, where the taught a course on autophysiopsychic music – which he described as "music which comes from one's physical, mental and spiritual self," while also performing in a range of ensembles.
Lateef spent much of his time as an educator exploring the methodology of autophysiopsychic music in cultures all over the world and sharing that knowledge with his students. He was awarded a Ph.D in Education in 1975 after studying the differences between Western and Islamic education for the University of Massachusetts.
His talents as a performer served as a key advantage in his pursuit of education, as an extensive touring schedule regularly brought him to Europe, Africa, Russia, and the Middle East throughout the '60s and '70s. Lateef even moved to Nigeria for four years as a cultural studies research fellow at the Ahmadu Bello University in Zaria, Nigeria.
Throughout his entire life he remained a highly influential and respected multi-instrumentalist. Many musicians recall being moved the first time they ever heard his highly distinctive music – Not to forget that he was playing 'World Music' long before it was ever coined as a genre. Credible rumors also suggest he influenced John Coltrane's sound while they were both signed to Impulse! Records by introducing him to the Indian Ragas that would influence his early work for Impulse!.
Lateef's virtuosic command of more than two dozen instruments demonstrated his love of the craft, and his endless academic exploits further show his love of the cultures that provide the roots for highly emotive music to grow.
He remained an active musician, recording prolifically and continuing to tour until shortly before he passed away. His last album, 'Roots Run Deep,' was released in 2012 and rounds off an impressive discography of 55 albums recorded as a front-man over the 57 years since he changed his name to Yusef Lateef.
When asked about his legacy, Lateef told iRockJazz: "I am deeply grateful for all of the respect that people have given me, for all of those that have contributed to my career. All mankind are brothers and sisters. I believe in love for all and hate for none."
Even with the loss of the man, his musical, cultural, spiritual, and academic legacy will surely live on.
R.I.P Dr. Yusef Abdul Lateef – 1920-2013.
Listen to "The Golden Flute" by Yusef Lateef below: