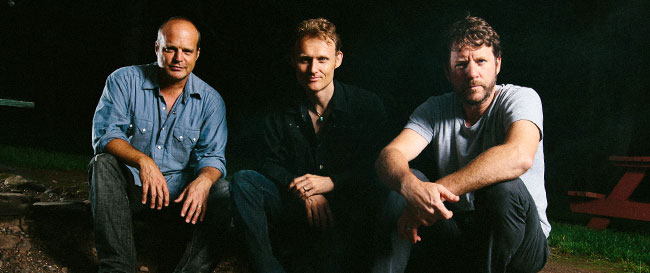 Medeski Martin & Wood have announced a tour to support their upcoming 'Free Magic' Album.
The group, best known for their improvisational creativity, recently announced they will release their next album, titled 'Free Magic' on September 25.
MMW, which features John Medeski on Keys, Chris Wood on Bass, and Billy Martin on Drums, will hit 11 venues in the Northeast in October, playing tracks from their new album alongside a few old favorites.
Of the music on the 'Free Magic' album, Martin said: "This stuff brings it back to when we used to hang out in this rented shack in Hawaii and make music together. It was really just a little plywood cabin in the jungle with a tin roof. John had a prepared piano there that sounded like a gamelan instrument and I had these funky drums that had mold growing on them, or I might play the side of the shack or play the railing going up the stairs and make it sound like a xylophone. And we'd get into a lot of different stuff there, just having musical conversations in this intimate setting."
Medeski Martin & Wood have been together for over 21 years, and have played a countless number of concerts around the world during that time. The 'Free Magic' album documents their first ever acoustic tour, which took place in 2007. This new tour will be their second ever acoustic tour.
Medeski Martin & Wood will be performing on the following dates:

10/03 – Fall River, MA – Narrows Center for the Arts
10/04 – Glenside, PA – Keswick Theatre
10/05 – Boston, MA – Jordan Hall
10/06 – Albany, NY – Massry Center for the Arts
10/07 – Bethel Woods, NY – Bethel Woods
10/08 – Englewood, NJ – Bergen PAC
10/10 – Ridgefield, CT – Ridgefield Playhouse
10/11 – Stroudsburg, PA – Sherman Theatre
10/12 – Huntington, NY – The Paramount
10/13 – Washington, DC – Kennedy Center
10/14 – Annapolis, MD – Rams Head Tavern

Check with the individual venues for ticket information.
Listen to 'Doppler', the first track from MMW's upcoming 'Free Magic' album below: