Back in May, New York City agreed to rename a street on the Upper West side of Manhattan in honor of jazz trumpet legend Miles Davis. This iconic move may seem like a simple measure, but it took years of campaigning to have Davis' legacy memorialized on the very street where he lived and composed some of his most influential pieces.
After that years-long campaign, it seems the city has finally seen the benefit of officially recognizing the impact New York musicians have brought not only to their local communities, but also the entire world though their music, by granting a new request in record time.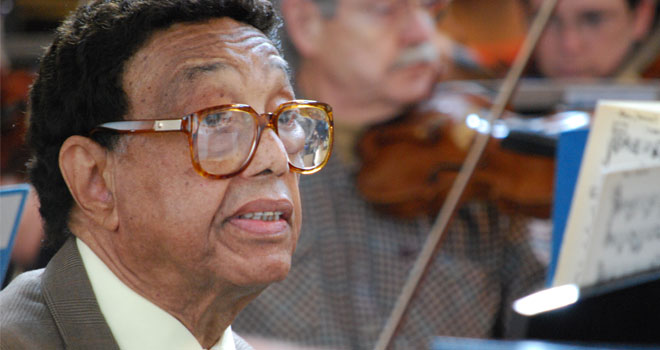 The late jazz pianist and educator Billy Taylor lived with his wife and children in the Riverton Square apartment complex on the corner of 138th and Fifth Avenue in Harlem throughout the '60s. As of June 21, 2014 that corner has officially been renamed Billy Taylor Way.
"This is where a lot of my dad's music was written… His signature piece 'I wish I knew how it feels to be free' was written here so the street is really a part of our lives. To have dad associated with it is incredibly special," Taylor's daughter Kim told PIX11 at the renaming ceremony.
"He was somebody who's been a part of the fabric of this community. He brought so much to the city," Taylor's step-son Tony Thompson remarked.
In addition to his highly influential musical exploits, Taylor played a key role in making Harlem a hub of jazz performance in New York by co-founding Jazzmobile, a community outreach organization that brought "America's Classical Music" (jazz) to the streets of Harlem by producing free concerts and festivals, alongside special events all over the world that showcased the best talent jazz has to offer.
The first Jazzmobile event took place in 1964, with a free outdoor summer concert series that featured the likes of John Coltrane, Dizzy Gillespie, Pharoah Sanders, Horace Silver, and countless others. Roy Campbell, Jr. and Najee were also two of the first participants in Jazzmobile's early education programs aimed at encouraging students to express themselves through the creative arts. Much of these early programs were planned from Taylor's own apartment in Harlem.
Congressman Charles B. Rangel and former Mayor of New York City David Dinkins were among the attendees at the renaming ceremony, which included a live musical performance of Taylor's "signature piece" 'I wish I knew how it feels to be free'
Watch a video report of the street re-dedication below: