'The First Lady of Song' Ella Fitzgerald's birthday has been commemorated in a Google Doodle, marking what would have been the pre-eminent vocalist's 96th birthday on April 25.
Google Doodles are hand-drawn variations of Google's logo made commemorate important cultural and historical dates.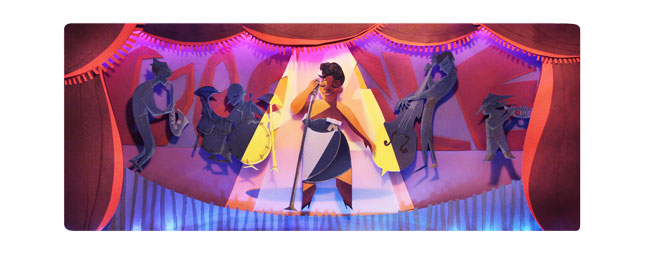 Born April 25, 1917, Fitzgerald first got her big break at the age of 17, when she intended to perform a dance at the infamous Amateur Night at Harlem's Apollo Theater. However, after being intimidated by a particularly impressive dance number she instead sang Hoagy Carmichael's "Judy," which won her the first place prize of $25.
This humble and largely accidental event marked the start of the illustrious career of an elegant woman who would make go on to become one of the greatest singers of 20th century popular song and one of the greatest Jazz artists to ever have lived. Over a career that spanned six decades, Fitzgerald set the benchmark for vocal range and pitch control – And through years of honing her craft, it seemed she only got better with age.
Over the years, Fitzgerald recorded over 200 albums, sold more than 40 million records, and won 13 Grammys before before retiring at the age of 74 due to complications from diabetes and heart disease. In 1991, she returned to New York's Carnegie Hall for the 26th time to perform for one last time.
She spent her golden years in the company of her adopted son Ray Brown, Jr. and granddaughter Alice. Speaking of her only wants at this stage in her life, Fitzgerald said: "I just want to smell the air, listen to the birds and hear Alice laugh."
Ella Fitzgerald passed away peacefully on June 15, 1996 in her Beverly Hills home.
Here's to The First Lady of Song:
http://youtu.be/mQwRhMn6D2U
Click over to the next page for another Ella Fitzgerald Classic.