It's certainly difficult for any musician to consistently provide excellent albums, with each record only increasing in profoundness, quality, and musical eloquence. But, Gregory Porter makes this intricate task seem effortless. The baritone vocalist is at the top of his game, and within the last four years he has become one of the most sought after male jazz singers on the planet. His smooth, velvety vocals can melt the hearts of just about anyone he comes in contact with and make it almost impossible to turn off his record.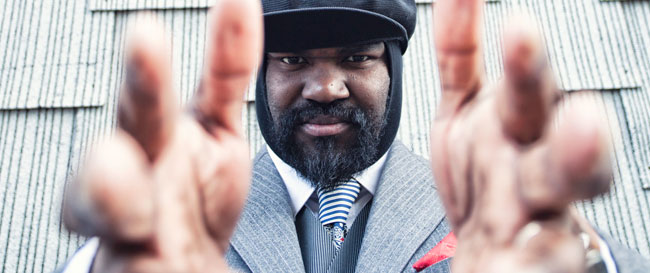 On Liquid Spirit, his first album for Blue Note Records, Porter goes after the heart and soul of his listeners by blending stirring love ballads, gospel grooves, and blues harmonies together; all genres which reflect his eclectic sound.
On "No Love Dying," the album opener, he declares the eternal presence of affection and the song's soft, simple timbre slightly resembles the figuratively engaging piece "Painted on Canvas" from his last album Be Good. He dives into a few cover tunes on the album such as "Lonesome Lover" by Max Roach and Abbey Lincoln, and "I Fall In Love Too Easily" first recorded by Frank Sinatra. He gives a tender touch to both songs, which is a complete opposite to the roaring vocal treatment he provides on the title track. "Liquid Spirit" is a full blown spiritual fest with hand-clapping rhythmic patterns and gospel tinged melodies. His church background (his mother was preacher) is surely present on this song, as well as the the autobiographical piece "Free," where he talks about the sacrifices his parents made for him.
While there is a good helping of spiritual influences on the album, he doesn't do much preaching. Only on "Musical Genocide" does he express his disappointments, particularly with music, and advocates a return to the traditional African-American genres that shaped music like blues, soul and gospel. Porter is clearly an old soul and truly values the music that came before him. That much is determined from some of his previous songs like "On My Way To Harlem" where reminisces about the good ole' days when Duke Ellington was reshaping the standard of jazz.
The genres he was influenced by seem ever-present in his voice. His ability to knock out a hardcore blues tune, then gently serenade listeners with a love song is remarkable. His knack for songwriting is also impressive and is clearly mirrored in the beautiful ballad "Wolfcry."  One of the many gems on the album, "Wolfcry" is a soft, piano based tune where Porter feels helpless after falling in love with a brokenhearted woman and solemnly declares: "After I have saved you and gathered all the pieces of your heart, that's when it starts / You gain your confidence and leave your innocence and vulnerability with me."
Porter has another jazz jewel on his hands. Liquid Spirit is another creative, enticing piece of work that will certainly give both old and new fans their musical fill.


Key Personnel: Gregory Porter (vocals), Yosuke Sato (alto saxophone), Tivon Pennicott (tenor saxophone), Chip Crawford (piano), Aaron James (double bass), Emanuel Harold (drums).