Robert Glasper has announced he will be taking his Experiment band on an international tour.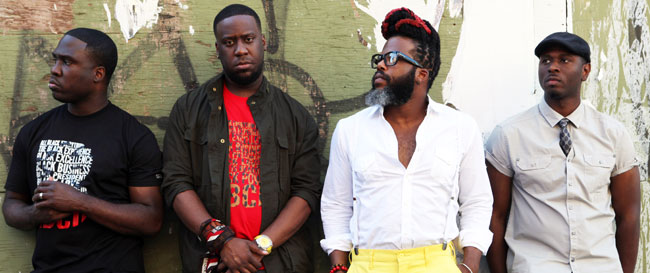 The tour kicks off on February 27 in Australia, marking the start of an extensive tour schedule that will see the Robert Glasper Experiment make an appearance in 16 countries across Europe and Asia before returning to the U.S. for additional tour dates alongside critically acclaimed vocalist Ledisi.
Ledisi featured on the first Black Radio album, which won the Grammy for Best R&B album last year.
The U.S. leg of the tour will begin April 16 in Jacksonville, FL and continue on to make 27 stops across the country, including a special performance on May 10 as part of the Kennedy Center's celebration of Blue Note Records' 75th anniversary.
The tour will be in support of Robert Glasper Experiment's critically acclaimed album 'Black Radio 2,' which features collaborations with an unprecedented number of top-tier talent, including Jill Scott, Anthony Hamilton, Norah Jones, Lalah Hathaway, and Snoop Dogg to name just a few. Fans can also expect to hear a few favorites from the first Black Radio album; including "Gonna Be Alright (F.T.B.)" featuring Ledisi.
Check out the full list of tour dates below:
February 27: Perth, Australia (Chevron Festival Gardens)
March 1: Puerto Galera, Philippines (Malasimbo Festival)
March 2: Jakarta, Indonesia (Java Jazz Festival)
March 7: Melbourne, Australia (Forum Theatre)
March 8: Sydney, Australia (The Hi-Fi Sydney)
March 10: Singapore, Singapore (Mosaic Music Festival)
March 12: London, United Kingdom (Hammersmith Apollo)
March 13: Paris, France (La Cigale)
March 15: Vienna, Austria (Porgy & Bess)
March 16: Zurich, Switzerland (Moods)
March 17: Leipzig, Germany (Conne Island)
March 18: Hamburg, Germany (Mojo)
March 20: Cologne, Germany (Club Bahnhof Ehrenfeld)
March 21: Brussels, Belgium (Het Depot)
March 22: Berlin, Germany (Gretchen)
March 23: Nimes, France (Paloma)
March 24: Nice, France (Salle Stephane Grappelli)
March 25: Lyon, France (A Vaulx Jazz Festival)
March 27: Bratislavia, Slovakia (Nu Spirit Club)
March 28: Copenhagen, Denmark (Dr. Studio 2)
March 29: Stockholm, Sweden (Faschings)
March 30: Prague, Czech Republic (Nerundy Festival)
April 1: Brighton, United Kingdom (Concorde 2)
April 2: Manchester, United Kingdom (Academy)
April 3: Birmingham, United Kingdom (The Institute)
April 4: Gateshead, United Kingdom (Gateshead Jazz Festival)
April 7: Cully, Switzerland (Cully Jazz Festival)
April 12: Eindhoven, Netherlands (Muziekgebouw Frits Philips – with the Metropole Orchestra)
April 13: Amsterdam, Netherlands (McTheater – with the Metropole Orchestra)
U.S. Tour Dates Featuring Ledisi
April 16: Jacksonville, FL (Florida Theatre)
April 17: Mobile, AL (Saenger Theatre)
April 18: Memphis, TN (Orpheum Theater)
April 19: Indianapolis, IN (Murat Theatre)
April 22: Toledo, OH (Stranahan Theater)
April 24: Detroit, MI (Detroit Opera House)
April 25: Chicago, IL (Chicago Theatre)
April 26: Louisville, KY (Palace Theatre)
April 27: Cleveland, OH (House of Blues)
April 28: Toronto, ON (Danforth Music Hall)
April 29: Pittsburgh, PA (August Wilson Center – Without Ledisi)
April 30: New York, NY (Beacon Theatre)
May 1: Philadelphia, PA (Tower Theatre)
May 2: Norfolk, VA (Chrysler Hall)
May 4: Baltimore, MD (Pier 6 Pavilion)
May 6: Durham, NC (Durham Performing Arts Center)
May 8: Charlotte, NC (The Fillmore)
May 9: Atlanta, GA (Chastain Park Amphitheater)
May 10: Washington DC (Kennedy Center – Without Ledisi)
May 13: Kansas City, MO (Midland Theatre)
May 14: Dallas, TX (Majestic Theatre)
May 16: Houston, TX (Bayou Music Center)
May 17: Austin, TX (ACL Live)
May 21: San Francisco, CA (Warfield Theatre)
May 22: Los Angeles, CA (Club Nokia)
May 23: Las Vegas, NV (House of Blues)
May 24: San Diego, CA (San Diego Jazz Festival)
May 25: Sacramento, CA (Woodlake Inn)
Watch the Robert Glasper Experiment perform "Gonna Be Alright (F.T.B.) Ft. Ledisi below: