Dave Koz and friends Mindi Abair, Gerald Albright, and Richard Elliot share an incredible chemistry. They appear surrounded by a jovial air as they joke with each other off-stage, and on-stage things get much more serious as that chemistry turns into pure musical energy, as I witnessed on the opening night of their 'Summer Horns' tour at Ruth Eckerd Hall in Clearwater, FL.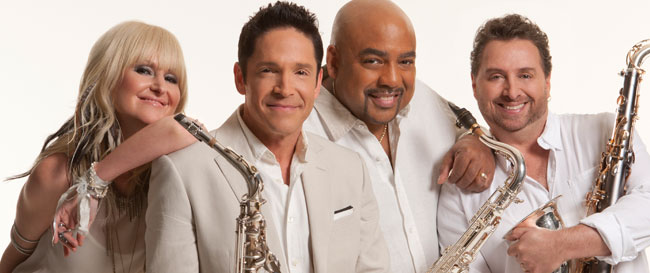 "This is not your show if you don't like saxophone," Abair quipped when asked about what audiences can expect from the show, and she's not wrong. The classic horn section sounds associated with the Jazz/Funk/R&B bands of the 70s and 80s, most notably Tower of Power, inspired Dave Koz and Friends' to create the 'Summer Horns' project.
It started with an album, which featured some of the best known songs of the past 70-years and arrangements by the likes of Tom Scott, principal horn arranger for Tower of Power Greg Adams, Gordon Goodwin, and even the group's own Gerald Albright. "Got To Get You Into My Life" (Beatles/Earth Wind and Fire), "Take Five" (Dave Brubeck), "Reasons" (Earth Wind & Fire), and "God Bless The Child" (Billie Holiday), and an original composition titled "Summer Horns" all feature on the album, which group have taken on the road in a nationwide tour.
"We've put together – i think – the makings of a very entertaining show that will take people back," Koz said of the tour. If the audience reaction to the opening night was anything to go by, he was certainly correct. We caught up with Dave Koz and Friends backstage at opening night for a chat about 'Summer Horns' and how it all came together.
Watch our interview with Dave Koz & Friends below: