Update: We're sorry to report that Jeff Golub has lost his battle with the disease. He passed away in the morning of January 1, 2015 at the age of 59.
Jeff Golub has been diagnosed with a rare brain disease.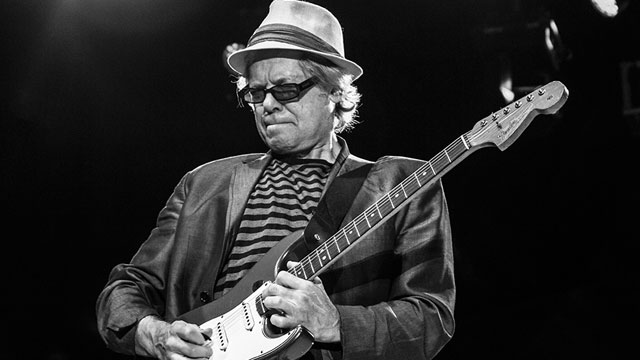 Jeff Golub performing at the 2012 Clearwater Jazz Holiday. Photo by The Jazz Line.
Doctors were left bewildered when the critically acclaimed guitarist inexplicably lost his eyesight in 2011. Now, after three years of searching, specialist doctors have been able to identify the rare disease behind his tragic loss.
After being invited to join the National Institute of Health's Undiagnosed Disease Program, which only has the resources to see and diagnose a small number of patients every year, doctors were able to confirm that Golub is suffering from a rare disease called Progressive Supranuclear Palsy (or "PSP").
The disease is an aggressive, and unfortunately untreatable, degenerative brain disease that currently has no cure.
Life since losing his eyesight has not been easy for Golub. After falling into the path of an oncoming subway train in 2012, Golub has seen some financial difficulty after being faced with inordinate medical expenses. An online auction, "Help 4 Jeff Golub," raised over $50,000 to help ease the financial pressure; thanks in part to a generous donation of eight autographed original charts from pianist and composer Joe Sample, who passed away earlier this year at the age of 75.
Sadly, Golub's has suffered "rapid physical deterioration" of his condition over the past year. He took a break from music because of his health issues; but now that the disease has started to adversely affect his balance, speech, and control of his body, his days of performing and recording are likely over.
Golub's family has used Facebook to keep fans up to date about his condition, and they are now encouraging everyone to learn more about PSP at PSP.org, and to donate if they can.
You can also contribute to the cost of Golub's ongoing care by donating to Jeff Golub's Medical Expenses Fund on his website.
Watch Jeff Golub perform "Boom Boom" at the 2009 Smooth Jazz Cruise below: