Who are the Sons of Kemet?
Formed in 2011, Sons of Kemet offer a unique mix of jazz-infused island grooves offering an insight into Caribbean folk music and the traditional rhythms carried in the heart of the African Diaspora. The quartet is made up of some of the most highly respected musicians operating out of England today. Led by clarinetist, saxophonist, and composer Shabaka Hutchings, the group includes Oren Marshall on tuba along with both Tom Skinner and Seb Rochford on drums.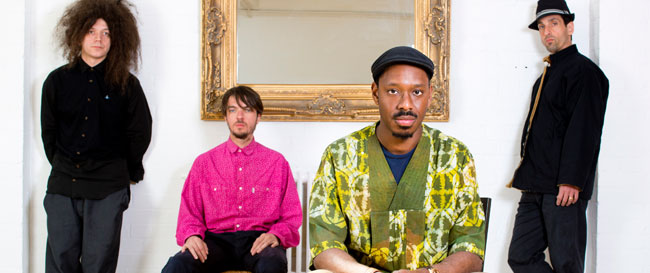 Released on September 9, Burn marks the groups recording debut with an album that is brimming with passion, emotional strength, and a deep understanding of the roots of the music they claim.
The album begins with "All Will Surely Burn," a heavily syncopated piece led by a unique rhythm that could only be found the in presence of two drummers. The tuba lays the groundwork in the lower registers for this song about global warming, while Hutchings pierces the highs with an authoritative tone on the Tenor sax – A quality that proves largely thematic throughout the album.
The exceptions to that theme offer something truly special, such as when the group brings a certain dignity to "The Rivers of Babylon" -No disrespect of Boney M- with a heavily mellowed, Little Drummer Boy-esq re-telling of the tale. The shrills (or stains) of German pop are removed, replaced with a gravitas fitting for the ceremonious return of a song on its way back to its roots.
The stand-out song on the album has to be "Inner Babylon." Since the album is called Burn, this song must be the fire. It serves as a passionate musical diatribe about the dangers of cultural hegemony in America. Steeped in reggae grooves, with a touch of afrobeat, the song is by far the music melodically accessible on the album, but behind that simplicity lies complexity I couldn't begin to broach in this short review. The connection to New Orleans – one of the few true melting pots of old America, the Jamaican influences, the African percussive traditions, not to mention that the reason for the anger in the song becomes clear when you turn on the news and see that commercial interests continue to pervade every day life and spread to other nations – A result of that cultural hegemony. "Inner Babylon" is a truly thrilling and complex musical ride.
There is true talent on this record, but the group's aural makeup is also part of their appeal. Two drummers, a tuba, and a saxophone. It sounds like it shouldn't work, but it does, and does so very well.
The Sons of Kemet have proven themselves as a force to be reckoned with.
Key Personnel: Shabaka Hutchings (saxophone/clarinet), Oren Marshall (tuba), Tom Skinner (drums), Seb Rochford (drums), Dave Okumu (guitar).