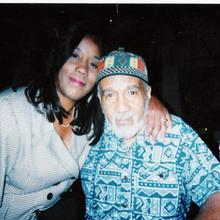 Drummer Gayelynn McKinney is truly an heir to a rich Detroit jazz legacy. Her father, Harold McKinney was an astounding jazz pianist who worked with many jazz greats, her mother Gwendolyn was a renowned singer and vocal instructor and Ray McKinney, her uncle, was a well respected bassist in the city. As a preeminent musician herself and founding member of the Grammy nominated female jazz group, Straight Ahead, McKinney is certainly doing her best to uphold her family's name and carry on their musical influence. Upholding that legacy includes making an impact on the lives of up and coming musicians.
Her father Harold not only was an artist and composer, but he mentored many young, aspiring musicians and served as a guiding force in the careers of many jazz artists. McKinney wants to do the same. She also wants to make sure that her father's music does not get lost in the trenches. For example, her dad's 1973 album, Voices and Rhythms of the Creative Spirit has become a Detroit jazz classic, but a lot of his music was never released before his passing in 2001. Her goal is to brings her dad's unheard music to the light for jazz lovers through the recording project, McKinfolk The New Beginning.
She has launched an initiative through the online fundraising platform Kickstarter in order to finance the musical project. McKinney plans to record the project with her band McKinfolk as well as collaborate with other Detroit based musicians.
The Jazz Line spoke with McKinney to discuss her new project and how she continues to carry on her father's legacy.
What inspired you to want to record an album of your father's music?
Mainly because he had so much of it. A lot of people loved his music and loved him. I feel it's my duty as his daughter to keep his music circulating because when he died he left like 30 boxes of music. I thought, I have a goldmine of music, so I had better do something with it.
The fundraiser is to get it started so once the first album is done, it will get me started on the rest.
Did he record a lot of that music already, or was it music that he composed and had not gotten a chance to record yet?
Some of it is on paper and the other music is on reel to reel tape. I am going to have the music transcribed and record it under the new McKinfolk project, which is the project that I record with. I'm going to do some arrangements of it and then I'm going to spread it out and I'm going to have some other musicians do some arrangements of his music. I think dad would have like to see what other ideas people would have come up with of his music.
Your dad played so many types of jazz, from soul jazz to fusion and boogie woogie. What kind of jazz will you be recording on the project?
If you listen to Voices and Rhythms of the Creative Profile, which is an album he did in 1973, he had some funkier stuff mixed in with traditional stuff, so the first CD of his music is going to be mostly on the acoustic/traditional side, but there is also going to be some arrangements where we put a funkier edge on it. That's where the other musicians come in. He had so many people who loved his music so I'm going to spread it out and see what the other musicians do with it.
Which musicians are you selecting to work with you on this project?
On one of the cuts, "Cornerstone" I'm hoping to get James Carter, along with Geri Allen, Marion Hayden, Dwight Adams, and Vincent Chandler.
If I can just get them for one record, I'll be happy. For the rest of the tracks, I am going to get some younger cats, like Ian Finkelstein, De'Sean Jones, and Marcus Miller.
You have a straight-up Detroit dream team right there. This would definitely be a good look for Detroit jazz.
There's a plethora of great artists here so I don't need to go anywhere else.
What is one of your favorite songs to perform by your father?
"Cornerstone" and "Wide and Blue" are my two favorite songs to perform of his. "Cornerstone" is a burning up-tempo jazz tune, real burning on fire, and it's fun to play.  "Wide and Blue" is dreamy, but it's really a bluesy, funky tune.
A lot of times when musicians come from famous families, it's always more pressure on them to live up to their parent's music. Do you feel that pressure to live up to your father's music when recording his material?
It's somewhat pressure, but it's not a lot because he taught me well, and sent me out into the world knowing how to do my craft. But its pressure to do as much as he did in the community, that's where I feel like I have kind of fallen short, but that's only because I have so much music to do first.
Do you see yourself as following in his footsteps by mentoring other musicians?
In some ways, I'm doing it now because I teach. It is funny because many times I feel like I'm not ready to teach because I have so many things that I need to do. But, every time I try to walk away from it, I end up going back to it. I do a lot of stuff in schools with Straight Ahead and with Wendell Harrison. I'm hoping to do more later as far as starting a program similar to my dads, which mentored many young people and adults.
Tell us about your dad's mentoring program?
His program was called the Jam and Bread Session. He used to hold the workshop every Thursday at the SereNgeti Ballroom on Woodward and many people passed through there.
So we might even have a Jam and Bread session part two one day.
I actually want to name it after my mother and father, when they performed together they went by HalGwen, so I may call it something like that, or I might even put that at the end of it, HalGwen's Jam and Bread.
What advice did your father give you in terms of being a jazz musician?
He told me to learn the business of music. He never deterred me from playing the drums even though it was considered a boys instrument when I was growing up, but because I was a girl playing the drums he always encouraged me to be strong and said "you can't play like a girl, be confident in what you are doing." He told me to learn all styles of music and don't be a in a box and listen to one kind of music.
In the house, I heard everything from WC Handy to the Beatles and a couple country songs in between. My father listened to everything.
Who are some of the musicians you were inspired by growing up?
Early on when I was little, starting at about 5, I was influenced by drummers Jimmy Allen and George Davidson. I used to sit next to George's high hat and listen to him perform. Sometimes, I used to sit so close to his high hat that he was worried he was going to hit me in the nose with his cymbal.
How did Detroit musicians play a part in your career as a musician?
A lot of the local musicians my father played with always encouraged me and were mentors to me.  You have your gems that never left Detroit and my father is one of them, George Davidson being another. They could have easily gone off to New York and become super stars but they chose to stay here. And I guess I'm another one because I could have left and moved to New York in my younger years, but I chose to stay here.
I really appreciate the fact that people loved my dad the way they did that's the reason why I want to get support for this project. He did a lot for the city.
To learn more about Gayelynn McKinney's jazz project, McKinfolk The New Beginning and/or to donate to the project, visit, her Kickstarter Page.
Watch Gayelynn McKinney (literally) play the room at Baker's Keyboard Lounge below: